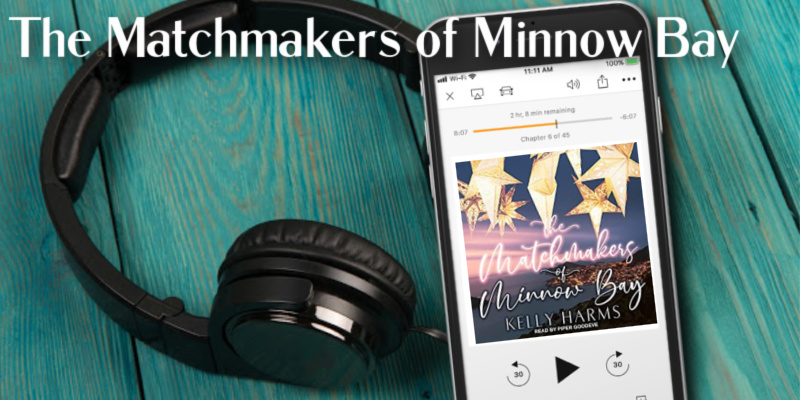 Narrated by Piper Goodeve, The Matchmakers of Minnow Bay by Kelly Harms offers friendship, romance and the journey of one woman who finds herself when she's evicted from her apartment. Sometimes change isn't a bad thing…
The Matchmakers of Minnow Bay
by Kelly Harms
Narrator: Piper Goodeve
Length: 10 hours and 2 minutes
Genres: Chick-Lit
Source: Publisher
Purchase*: Amazon | Audible *affiliate
Rating:

Narration: 5 cups Speed: 1.3x

A young painter, Lily has reached a crossroads in her life. Her career hasn't taken off, her best friend may no longer be the trusted friend she thought, her boyfriend is a disappointment, and now she can't keep up with the rising cost of living in the city. With no one to turn to, Lily is forced to move from her beloved apartment, but while packing she comes across a piece of mail that had slipped to the back of her junk drawer: a letter detailing further action needed to finalize the annulment of a quickie Vegas wedding. Ten years ago!

Lily decides it's time to turn over a new leaf and the first item on her list of things to fix is getting the annulment... but you can't just send a reply ten years later, "Hey by the way we are still married." This is something that must be addressed in person. Lily takes to the road to track down her husband - the charming, fun, and sexy man she connected with all those years ago - Ben Hutchinson.

Ben Hutchinson left a wealthy dot-com lifestyle behind to return home to his family and the small town he loves, Minnow Bay. He's been living off the grid and the last thing he expects is a wife he didn't know he had to show up on his doorstep.

By chance, Lily arrives at the magical Minnow Bay Inn, and there she will discover not just a place to lay her head, but new friends, a thriving art community, and maybe even the love of her life.
This was my first experience with author Kelly Harms and narrator Piper Goodeve. The two were well paired, making The Matchmakers of Minnow Bay an enjoyable listen.
Lily has lived in the same Chicago apartment since she graduated from college. She works as a barista by day and paints by night. She has painted the same view from her window again and again. The man who displays and manages the sale of her art is also her lover. When Lily misses a rent payment, she receives an eviction notice, and it turns her world upside down.
While packing Lily finds annulment papers, she neglected to sign. When her best friend married her ex-boyfriend, Lily married Ben in Vegas on a whim…and apparently has been married to him for the past ten years. She sets out to correct things and ends up in Minnow Bay, a quaint art community that offers its own surprises.
Lily is sweet, naïve, afraid of change, and too damn trusting. She is one of those go with the flow, lets not make waves type. It's clear Lily is stuck and her friends have moved on. Her boyfriend/manager is an arse, and it infuriated me the way Lily just let him run the show, so I was eager to see Lily put her foot down and find herself.
Side stories about townsfolk and Lily's BFF in Chicago pulled me in as did the relationship between Ben and Lily. Ben is a sweet guy who, unlike Lily, thinks the worst of people. It was interesting seeing the two interact. His behavior is the catalyst for Lily seeking change.
I would enjoy revisiting Minnow Bay but this story is standalone and wraps up nicely.
Piper Goodeve was delightful as the narrator for this story. She captured each character from their mannerism to emotions. Her tone is pleasant and draws the listener in. I would listen to her again.
The Matchmakers of Minnow Bay by Kelly Harms. Narrated by Piper Goodeve, the story shares friendship, personal growth and a side of romance all surrounding the art community of Minnow Bay. #audiobook #chicklit #womensfiction
Click To Tweet

Stay Caffeinated!
Never miss a post by adding Caffeinated to your Inbox
Reading this book contributed to these challenges:
Related Posts