Sophia Rose is here with Varina Pallodino's Jersey Italian Love Story by Terri-Lynne DeFino. I am curious about this chick-lit novel since I am a Jersey girl who married into an Italian family. Grab an espresso and check out Sophia's thoughts….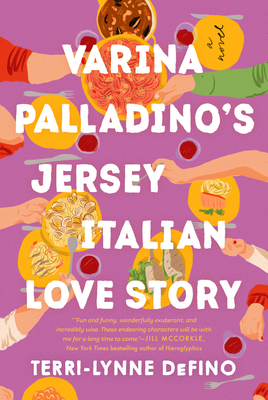 Varina Pallodino's Jersey Italian Love Story
by Terri-Lynne DeFino
Genres: Chick-Lit
Purchase*: Amazon | Audible *affiliate
Rating:

Heat Level:
An utterly delightful and surprising family drama--think Moonstruck and My Big Fat Greek Wedding set in New Jersey--about a boisterous, complicated Italian family determined to help their widowed mother find a new boyfriend.

Lively widow Varina Paladino has lived in the same house in Wyldale, New Jersey, her entire life. The town might be slightly stuck in the 1960s, when small businesses thrived and most residents were Italian, but its population is getting younger and the Paladinos are embracing the change. What Varina's not embracing, much to her ninety-two-year-old mother's dismay, is dating. Running Paladino's Italian Specialties grocery, caring for her mother, and keeping her large, loud Jersey Italian family from killing one another takes up all of Varina's energy anyway.

Sylvia Spini worries about her daughter Varina being left all alone when she dies. Sylvia knows what it is to be old and alone, so when her granddaughter, Donatella, comes to her with an ill-conceived plan to find Varina a man, Sylvia dives in. The three Paladino sons--Dante, Tommy, and Paulie--are each secretly plotting their own big life changes, which will throw the whole family for a loop.

Three generations of Paladinos butt heads and break one another's hearts as they wrestle with their own Jersey Italian love stories in this hilarious and life-affirming ode to love and family
Sophia Rose's Review
Holding a New Jersey Italian family together is no easy feat for a widowed grocery store owner- especially since they start matchmaking. The title had me sold, but then I spotted the blurb for this new to me author effort and I couldn't resist if I wanted to.
The story opens on an Italian American widow in her seventies who runs her late husband's family Italian grocery store, cares for her ninety-two year old mother, Sylvia, keeps an eye on her grown sons, David and Dante, troubled Donatella, and a neighbor man, Paulie, who grew up with her kids and got kicked out of his family. Sylvia and Donatella decide Varina needs help getting back into the saddle when it comes to dating when Varina doesn't begin dating on her own.
And, off we go with this boisterous, riot of a family giving the reader a full-senses read with color, language, food, emotions all over, and the ups and downs of a multi-generational family story. Varina might be the center of them all and her lack of love life the catalyst for some aspects, but this is not just her story. It's a family saga, really with Sylvia being the one to get a romance, Varina considering what she really wants, and Paulie and Donatella taking the spotlight later as do other family members when Varina is background. So, there is romance and even some comic moments, but there is a lot of just life story of people tied to each other as family.
The author doesn't shy away from mental health troubles in at least two characters, sexual orientation for another, family secrets, family misunderstandings, loss, and more including a late December surprise romance for Sylvia.
Incidentally, the beginning of each chapter was headed with Jersey Italian colloquialisms that cracked me up often enough. Some were familiar since I come from a Sicilian heritage, but most were not since my family doesn't hail from Jersey.
While there are moments when the story meanders and doesn't have a crisp plot thread (or threads) and I didn't take to some of the characters, that feeling of being immersed in a big and clamorous Italian family, mouth-watering food descriptions, and emotional moments were there. In the end, I was glad to have spent time with the Pallodinos and hope Ms DeFino writes more in this vein. I would recommend it to women's fic, chick lit, general fiction, and fans of romance that like the focus on family.

Stay Caffeinated!
Never miss a post by adding Caffeinated to your Inbox
Related Posts