I cannot get enough of the Wrexford & Sloane historical mystery series and now I am all caught up waiting on the next release this fall. Murder on Serpentine Bridge by Andrea Penrose is narrated by James Cameron Stewart, who brings these characters to life. Wrexford & Sloane must stop a killer and protect an innocent young boy.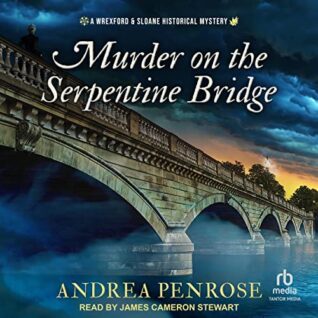 Murder on the Serpentine Bridge
by Andrea Penrose
Series: Wrexford & Sloane #6
Narrator: James Cameron Stewart
Length: 11 hours and 58 minutes
Genres: Historical, Mystery
Source: Purchase
Purchase*: Amazon | Audible *affiliate
Rating:

Narration: 5 cups Speed: 1.5x

Beyond the glittering ballrooms and salons of Regency London there are mysteries to untangle and murders to solve—and the newlywed duo of Lady Charlotte and the Earl of Wrexford once again find themselves matching wits with a cunning enemy . . .

Charlotte, now the Countess of Wrexford, would like nothing more than a summer of peace and quiet with her new husband and their unconventional family and friends. Still, some social obligations must be honored, especially with the grand Peace Celebrations unfolding throughout London to honor victory over Napoleon.

But when Wrexford and their two young wards, Raven and Hawk, discover a body floating in Hyde Park's famous lake, that newfound peace looks to be at risk. The late Jeremiah Willis was the engineering genius behind a new design for a top-secret weapon, and the prototype is missing from the Royal Armory's laboratory. Wrexford is tasked with retrieving it before it falls into the wrong hands. But there are unsettling complications to the case—including a family connection.

Soon, old secrets are tangling with new betrayals, and as Charlotte and Wrexford spin through a web of international intrigue and sumptuous parties, they must race against time to save their loved ones from harm—and keep the weapon from igniting a new war . . .
All of London is preparing for the grand Peace Celebrations to honor victory over Napoleon. The family is settling in and developing a routine. But alas, that quiet ends when Wrexford and the weasels, Raven and Hawk, discover a body floating in Hyde Park's lake. The tale that unfolded was suspenseful with twist, plenty of danger as Wrexford & Charlotte expand their circle.
Jeremiah Willis is the body that was discovered in the lake. He was developing a top-secret weapon. With the prototype missing and a familiar connection, our duo soon is caught up in the investigation.
Family obligations have the family visiting the countryside. We spent some time with Raven and Hawk as they made friends with the dead man's nephew. All of which leads to a clever mystery. Perfectly paced with plenty of twists and high stakes danger.
Although this is indeed a mystery series, the slow-burning romance, family and friends woven throughout have endeared me to the series. Each book sheds more light on our characters while we deal with cunning murderers, plots against the crown, and more. It truly is a brilliant series. Now that I am all caught up, I am counting down the days until Murder at the Merton Library releases in September. A shout out to Sophia Rose for introducing me to the series, via her review on the Reading Frenzy.
James Cameron Stewart continues to narrate and perfectly capture the characters and tone of the story. It's addictive to listen to, and he truly enhances the experience.
Murder on the Serpentine Bridge by Andrea Penrose delivered a clever murder-mystery. Narrated by James Cameron Stewart, this historical fiction series is a must listen! #audiobook #WrexfordAndSloane
Click To Tweet

Stay Caffeinated!
Never miss a post by adding Caffeinated to your Inbox
Reading this book contributed to these challenges:
Related Posts