Cosmic Jinx by Kim Richardson is the tenth audiobook in the Witches of Hollow Cove. This is a humorous, action-packed tale involving witch, Tessa Davenport. After losing her magic, things get complicated when Tessa and her friend try to get it back. Narrated by Devon Sorvari, Richardson delivered snark and surprises in Cosmic Jinx.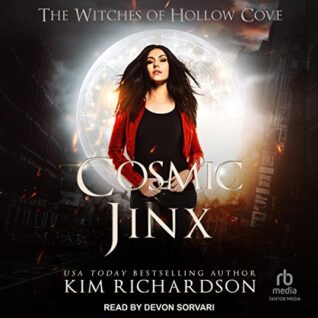 Cosmic Jinx
by Kim Richardson
Series: Witches of Hollow Cove #10
Narrator: Devon Sorvari
Length: 7 hours and 52 minutes
Genres: Urban Fantasy
Purchase*: Amazon | Audible *affiliate
Rating:

Narration: 4 cups Speed: 1.5x

Lucifer took my magic.

Okay, so technically, Derrick the incubus douche took it, but he was Lucifer's guy and following orders.

Still, I can't be a witch or a Merlin without magic. Can my life get any worse? Of course, it can.

As I try to adjust and accept life without a drop of magic in my veins, Marcus disappears. Well, not exactly, more like he ghosts me. He's not returning my calls or my texts. Just when I think I finally have my love life on track, it gets derailed, and my heart is slowly torn apart.

Even if Marcus is gone, I'm not about to give up on my magic. I have plans. Crazy-ass, possible death plans, but I'll do just about anything to get my magic mojo back.

Yes, it'll be dangerous. Insane. Only a crazy person would be willing to try it.

Good thing I'm just crazy enough.

Cosmic Jinx is perfect for fans of urban fantasy, mystery, slow-burn romance, and humor. Get ready for this heart-pounding and laugh-out-loud magical adventure!
Derrick the incubus stole Tessa's magic and everything is wrong. Her boyfriend is out of town and an attempt to retrieve her magic has disastrous results. Gads, Tessa seems to get herself in one pickle after another.
Despite everyone telling her to accept a life without magic, Tessa is determined to fix it. Oh boy, twists, deals and mishaps await you. I was quite curious to see how it all worked out.
The tale offered plenty of humor from a Merlin test to a horny goddess. It delivered plenty of punch and even the aunts made me chuckle. Tessa, for all her growth as a witch/merlin, still struggles with her impulsive nature. Somehow she gets the job done though and her heart is always in the right place, making her likeable.
Romantic developments, quibbles, and tangos with Lucifer kept me listening. Let's just say there is never a dull moment in Hollow Cove. The story has a cozy paranormal vibe that I recommend listening to in the order of its release.
Devon Sorvari brings all the characters to life and captures Tessa's snarky attitude. The story lends itself to the audiobook format and enhances the tale.

Stay Caffeinated!
Never miss a post by adding Caffeinated to your Inbox
Reading this book contributed to these challenges:
Related Posts