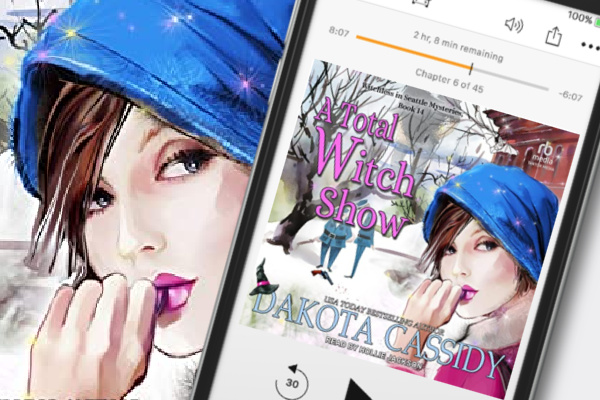 Narrated by Hollie Jackson, A Total Witch Show by Dakota Cassidy, is the fourteenth audiobook in the cozy paranormal mystery series, Witchless in Seattle. Snark, suspense and action await you as something wicked this way comes….
A Total Witch Show
by Dakota Cassidy
Series: Witchless in Seattle #14
Narrator: Hollie Jackson
Length: 5 hours and 52 minutes
Genres: Cozy Mystery, Paranormal
Source: Publisher
Purchase*: Amazon | Audible *affiliate
Rating:

Narration: 4 cups Speed: 1.4x

Hello, it's me, intrepid amateur sleuth, Stevie Cartwright back in the saddle again!

An intrepid amateur sleuth who's being hunted.

Yep. This time I'm the case that needs solving. My most recent past has come back to haunt me. What I mean by that is, almost every single criminal dead or alive that we've captured or we've had a hand in doling out their fate, have been stalking me via the ghost of my very first case.

Sal Finch.

Remember him? Win's vengeful cousin, angry and bitter when he lost all of Win's inheritance to me and tried to kill me, has somehow figured out how to read people on this plane and get them to do his bidding.

So far, I've been the recipient of a black eye, I've been shot at, and someone tried to blow me up! So how do I, mostly a mere mortal, fight off someone from the afterlife still holding a big, fat grudge?

I call my sister Halliday Valentine to help me fight off the forces of evil, of course! A full-time witch who has visions, and part time sleuth just like me. But the afterlife sure has drastically changed since I lost my powers, and everyone around me becomes suspect as Sal whispers suggestively in the ears of criminals who would like nothing better than to see me kaput.

So when things get so bad, my sister Hal has a vision of me, a mere dead husk of a body, my soul evaporated for eternity, we know we have to take action and call Sal out with the mother of all spells. But with the afterlife in such an uproar, and the delicate timing of the spell, will we get this monkey off my back, or leave the world turned upside down?
What a crazy ride this series has been. We have witnessed Stevie from the moment her powers were stripped from her, and she was shunned by the coven to her making roots in Seattle. She has built a home for herself, found love and friendship. What she needs and what we need are answers. If she can stay alive long enough, we might just get them.
All hands on deck for this one, including Halliday Valentine Stevie's sister. What she tells Stevie has everyone worried, including Win. Our villain Sal Finch might me dead, but he isn't done seeking revenge.
Fourteen stories in and Cassidy kept the story fresh and exciting. The buildup regarding Stevie's powers, which occasionally sputter into life, was intense in this episode. I loved the secondary characters and seeing everyone rally. Win was downright heroic in a scene or two. Stevie is her usual sacrificing self, but the girl is loyal.
Fans of amateur sleuths, humor, and paranormal elements will want to check out this series. I recommend starting from the beginning. While most contain a single mystery, the overall story arc and character relationships are best enjoyed from the start.
Hollie Jackson narrates and delights from her squeaky voice of Stevie's familiar to the Russian spy. Jackson enhances the overall tale and brought these characters to life.
*Kindle Unlimited
A Total Witch Show by Dakota Cassidy delivered answers, suspenseful and plenty of humor. #WitchlessInSeattle #cozyparanormalmystery #audiobook #HollieJackson
Click To Tweet

Stay Caffeinated!
Never miss a post by adding Caffeinated to your Inbox
Reading this book contributed to these challenges:
Related Posts