Narrated by Hollie Jackson, Where There's A Witch, There's A Way by Dakota Cassidy is the thirteenth cozy mystery in the Witchless in Seattle series. Stevie and Win are dealing with a damage causing ghost and a dead man in this action-packed caper.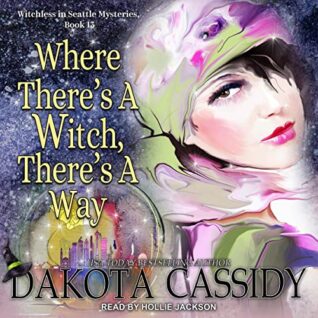 Where There's A Witch, There's A Way
by Dakota Cassidy
Series: Witchless In Seattle #13
Narrator: Hollie Jackson
Length: 6 hours and 14 minutes
Genres: Cozy Mystery
Source: Publisher
Purchase*: Amazon | Audible *affiliate
Rating:

Narration: 4 cups Speed: 1.3x

Goin' to the chapel and we're gonna get married!

No, silly. Not us. Team #Stewin is still enjoying being engaged and a nice long winter hiatus from murder and ghost chasing.

Until we open up Madam Zoltar's for the beginning of tourist season and the first customers are a bridal party from the seventh level of you-know-where!

When the soon-to-be ex-husband of the matron of honor is found dead at the motel where the bridal party is staying and she's accused of his murder-a murder we're convinced she didn't commit-our quiet comes to a screeching halt.

Add in the matron of honor's dead twin, who appears to be desperately trying to get some kind of message to us, Belfry, who's behaving strangely, and more poofy pink dresses than you can count, and you've got yourself a mystery.

A mystery we're determined to solve! The gang's all here. Join us for another romp in Witchless in Seattle, won't you?
Silly me, I thought the nuptials were for Win and Stevie, but alas, they are doing a reading for the bridal party when a ghost caused damage. Then, when they try to return an item left behind, they end up discovering a dead body. The body ends up being the soon-to-be divorced husband of the matron of honor. When she stands accused Win and Stevie investigate.
Dana, who is now best buds with Stevie, rankles Win's feathers as the case took some unexpected twists and turns. As always, the mystery was well done and kept me entertained.
On the home front, Belfry has a new friend, and the ghost is leaving cryptic messages. Cassidy delivered a mix of humor, suspense and shared the ties that bond these characters together.
As always, I enjoyed a splendid escape listening to this on audio. Hollie Jackson narrates and has perfected all the character voices, bringing Cassidy's stories to life. While the series is available through Kindle Unlimited, I recommend upgrading to the audio version.
I look forward to the next installment in this whimsical murder mystery series.
Narrated by Hollie Jackson, Where There's A Witch, There's A Way by Dakota Cassidy delivers a murder-mystery and an angry ghost. #WitchlessInSeattle #cozymystery #audiobook #bookreview #newrelease
Click To Tweet

Stay Caffeinated!
Never miss a post by adding Caffeinated to your Inbox
Reading this book contributed to these challenges:
Related Posts