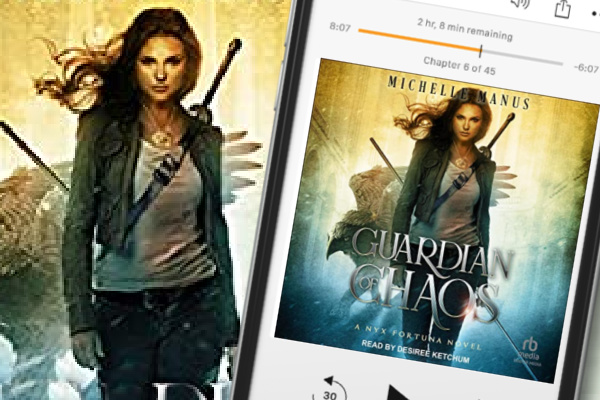 I am always on the lookout for new fantasy series and was intrigued by Guardian of Chaos by Michelle Manus. Narrated by Desireé Ketchum, this first in the Nyx Fortuna series introduces us to Earth's hub for the magical universe and its new guardian, Nyx Fortuna.
Guardian of Chaos
by Michelle Manus
Series: Nyx Fortuna #1
Narrator: Desireé Ketchum
Genres: Fantasy
Source: Publisher
Purchase*: Amazon | Audible *affiliate
Rating:

Narration: 5 cups Speed: 1.3x

Welcome to Earth Between. The inhabitants are magical, the fugitives dashing, and the new Guardian is having a seriously strange life.

It's easy to feel forgettable. Nyx literally is, and the condition seems to be getting worse.

Homeless, alone, and with no memory of her past, she's at the end of her rope when she stumbles into Earth Between. Here, a Waystation connects the planet to the rest of the inhabited universe, and magic and intergalactic travel are just the order of the day.

Becoming the Station's Guardian seems too good to be true. It means a home and stability, surrounded by people who can actually remember she exists. But when an illegal traveler slips into Earth Between, she's given an ultimatum: apprehend him or lose Guardianship of the Station.

Nyx will do whatever it takes to keep her new life, even if it means following the fugitive to one of the universe's most dangerous planets. But that action has life-altering consequences, thrusting her into the middle of a conflict that started centuries before her birth.

Nyx is about to come face to face with the powers of the universe—and discover that being seen is even harder than being forgotten.
I have to say; I love the world that Nyx Fortuna is thrust into. Nyx has no genuine memories and aside from the lover who gave her the necklace she wears, no one remembers or really sees her. It's not just a figment of her imagination. When she loses her job and gets an eviction notice, she leaves town. On the bus, she gets a pounding migraine and blood runs from her nose and ears. She escapes the bus and in the terminal she stumbles upon Earth Between, a nexus between worlds.
Here Nyx becomes the Guardian of a Waystation between worlds, and our adventure begins. I loved Nyx from the onset, and you will too. Despite her shitty life, she is kind to all, kickass and wise beyond her years…well, sometimes.
Nyx has to tackle a difficult situation the moment her job begins. First, she has an influx of visitors to check in, then she is asked to deal with an illegal traveler. She needs to apprehend him or she'll lose her new job.
I loved her avatar, a griffin she dubs Grif and the people of the village surrounding her waystation. The Waystation is magical and expands as needed. The author brought it life and explained the world while dangling knowledge that has me curious to know more.
We met quite a few characters, but each was unique enough that I easily kept track of them and look forward to learning more. We have a potential love interest, which is complicated by some past issues. Secondary characters added humor and suspense.
We traveled ley-lines, worked with magical objects, and did some creepy things with thorns. It was refreshing and original. The story left me excited about the next audiobook.
For a first in series, it was well paced, and I slipped into the audio narrated by Desireé Ketchum. She captured Nyx's personality and helped set the tone for the series. I will definitely be listening. Currently, there are three books in the series, so I am hoping the audiobooks release quickly.
Fans of Ilona Andrews and her InnKeeper Chronicles will enjoy this one.

Stay Caffeinated!
Never miss a post by adding Caffeinated to your Inbox
Reading this book contributed to these challenges:
Related Posts