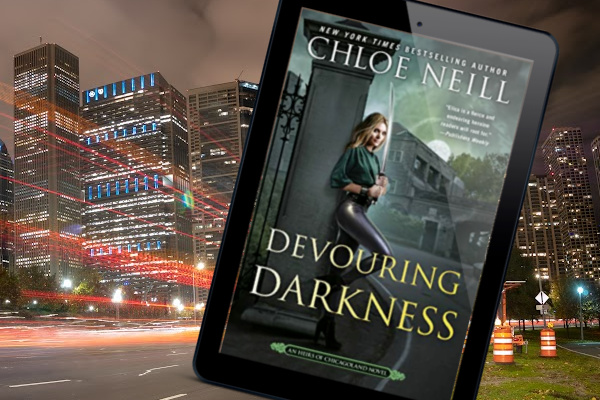 Devouring Darkness by Chloe Neill is the fourth novel in the Heir of Chicagoland series. This is a spinoff of Neill's Chicagoland Vampire series featuring the next generation. Danger, snark, friendship, romance and a paranormal entity threatening Chicago gave way to an exciting installment that left me craving more….
Devouring Darkness
by Chloe Neill
Series: Heirs of Chicagoland #4
Source: Publisher
Purchase*: Amazon | Audible *affiliate
Rating:

Heat Level:
In the newest installment of the USA Today bestselling Heirs of Chicagoland series, vampire Elisa Sullivan unearths an ancient grudge, with potentially devastating consequences.

As the only vampire ever born, and the daughter of two very powerful Chicago vampires, Elisa Sullivan knew her life was going to be…unusual. But she wanted to make her own way in the world, preferably away from her famous family. Then supernatural politics—and perhaps a bit of destiny—intervened, and Elisa had to steady her nerves and sharpen her steel to fight for the city of Chicago. Luckily, Connor Keene, son of the North American Central Pack's Apex wolf, is right by her side.

When Elisa and her Ombudsman colleagues agree to escort a vulnerable supernatural to Chicago, they inadvertently set in motion a scheme of long-awaited magical vengeance. The city may pay an arcane price it can't afford unless Elisa and her allies rise to the challenge.
While each story in the Heir of Chicagoland series features a case to be solved, I truly recommend beginning with book one, Wild Hunger. The overall series arc, friendships, and of course the romance are best served fresh from the beginning. At the time of writing this review, one more installment was contracted with the publisher.
The story starts off slowly as Elisa Sullivan and her Ombudsman partner are asked to rescue an informant who has been compromised. All goes well until they are attacked. We and the Ombudsman have little information after the attack, but a part of Chicago was destroyed. The young woman they rescued is missing and her partner has been injured. We muddle through picking up clues and face another attack where the villain is revealed. On the third attack, things really pick up and I found myself completely invested. In fact, from the fifty percent mark, I could not set this one down.
I love each of the heirs individually and throughout the series we've gotten to know them and witness growth, bonding and seeing them work as a team. Their friendship and alliances have proven how well they work together, and in Devouring Darkness, they truly must not only work together, but trust each other. Threats to the shifters increase the pressure, as does a slight rifle with the fae. I loved seeing Elisa bring her A game.
The romance between Connor and Elisa continues to strengthen and we some significant development. And Lulu… oh my, that girl really comes into her own and shines in this one. LOL
I thought the storyline was well done, as it kept me on the edge of my seat. We see a solid, unrushed conclusion before getting hints of things to come. Neill left me excited about the next book.
Fans of the Chicagoland Vampires, urban fantasy and paranormal romances will want to add Devouring Darkness and the Heir of Chicagoland to their bookshelves.
Devouring Darkness by Chloe Neill delivered as new threats threaten the city. Elisa Sullivan and her friends will need to band together along with allies to save the city. #UrbanFantasy #HeirsOfChicagoland #NewRelease #bookreview
Click To Tweet

Stay Caffeinated!
Never miss a post by adding Caffeinated to your Inbox
Related Posts