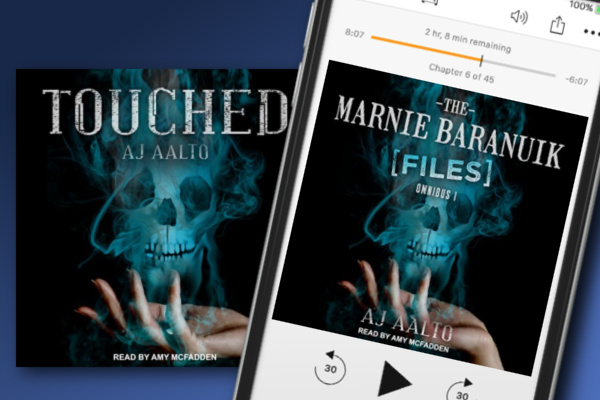 Narrated by Amy McFadden Touched is book one in the Marnie Baranuik files, part of The Marnie Baranuik Files Omnibus. This first in series delivered snark, tons of sexual innuendo and plenty of action as someone sets out to kill Marnie.
The Marnie Baranuik Files: Omnibus One Audiobook contains the novels Touched, Death Rejoices, and Last Impressions and comes in just under fifty-seven hours.
I decided to review each story on its own. The stories are narrated by Amy McFadden and feature the adventures of Marnie Baranuik, a daysitter, witch, and psychic detective working closely with the Preternatural Crimes Unit (PCU) of the FBI.

The Marnie Baranuik Files: Touched
by A.J. Aalto
Series: Marnie Baranuik Files #1
Narrator: Amy McFadden
Length: 18 hours and 9 minutes
Genres: Urban Fantasy
Source: Publisher
Purchase*: Amazon | Audible *affiliate
Rating:

Heat Level:

Narration: 5 cups Speed: 1.3x

For decades, Marnie Baranuik has been the vigilant but often frustrated daytime guardian for Lord Harry Dreppenstedt, undead aristocrat and all around sass-mouth. As a DaySitter, witch, and psychic detective working closely with the Preternatural Crimes Unit of the FBI, Marnie battles a wild assortment of crimes and monsters, but none so formidable as her own flaws and the poor judgement of her heart.

In this, the first trilogy in the Files, Marnie throws down with dark witches, malevolent psychics, smart-mouthed vampires, accidental ghouls, zombies, a slap-happy poltergeist, and a hot vampire hunter who may drive her wild if he doesn't drive her off the deep end first.

Join Marnie and her resident Cold Companion in the novels Touched, Death Rejoices, and Last Impressions, and let the weird times roll.
I enjoy urban fantasy, and dove into the world Aalto created. We have Marnie, a daysitter guardian for Lord Harry Dreppenstedt, an undead aristocrat. She is also a witch and psychic detective who uses touch to gather information from both objects and humans. Foul-mouthed and overly horny, I liked this snarky little witch. Her personality sometimes hides how brilliant she is. She holds a doctorate in preternatural biology and has extensive knowledge of the dark arts.
Apparently she slept with a detective from the PCU, before realizing he was engaged and almost getting herself killed. Upset, angry, and ashamed, she left the unit. Tucked away in a remote cabin with her vampire, she is surprised to find Detective Mark Batten and his partner on her doorstep. They've got a case and need her assistance.
The story that unfolds was great fun with harpies, ghouls and vampire hunters. Marnie seems to be at the center. Aalto mixes danger while forcing Marnie to be near Batten, the object of her lust, and Harry, her undead partner. It's a bit of a love triangle.
From the characters to the crazy case, I had a fantastic time. Marnie is kickass, smart and, like a lot of my favorite fantasy heroines; A clever idiot. She forgets her gun, walks into danger without alerting her team, and finds herself in more than one pickle. Fans of Rachel Morgan and Kate Daniels will know what I mean.
I enjoyed the world building, characters and endless storylines the Baranuik Files offer and look forward to continuing this omnibus with Death Rejoices. While the storyline is dark and intense, it's made light by the snark, overactive libidos and food talk. Our girl takes cookies and coffee seriously.
Amy McFadden narrates and brilliantly captured the voice and antics of Marnie, Harry and Batten. She did a wonderful job with the villains and monsters. She enhanced the story from the humor to the crazy thoughts in our protagonist's head.

Stay Caffeinated!
Never miss a post by adding Caffeinated to your Inbox
Reading this book contributed to these challenges:
Related Posts