Fury of Denial by Coreene Callahan is the third audiobook in the Dragonfury; Scotland series narrated by Felicity Munroe. Find out what happens when an antisocial dragon with sweet-tooth meets a sexy pastry chef.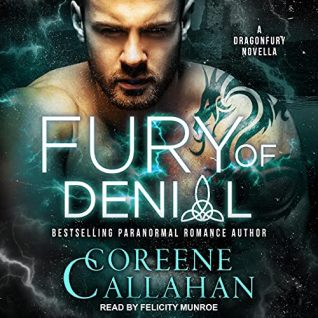 Fury of Denial
by Coreene Callahan
Series: Dragonfury; Scotland #3
Narrator: Felicity Munroe
Length: 3 hours and 50 minutes
Genres: Paranormal Romance
Source: Publisher
Purchase*: Amazon | Audible *affiliate
Rating:

Heat Level:

Narration: 4 cups Speed: 1.3x

He's an antisocial dragon shifter with a serious sweet tooth. She's a pastry chef who won't give him any sugar.

Blinded in an ambush, dragon warrior Wallaig has spent half a century in the dark with one thing on his mind—vengeance. When the rogue faction responsible returns to Scotland and targets a human female, he saves her life, determined to exact his revenge—even if it means using her as bait.

Smart-mouthed Amantha Leblanc is pastry chef with dreams of opening her own shop. The money is in the bank. Her mission is clear. The plan goes to hell the second Wallaig breaks into her apartment and she defends herself with a rolling pin. With a rogue pack of dragons circling, she is forced to rely on a man she doesn't like—but isn't able to resist.
This is the third novella in the Scotland Dragonfury series and I enjoyed it, but it suffered from length. Things happened quickly and while I can accept the mating, I prefer a slower, lengthier approach to allow me to connect. I still had a good time and even picked up the first audiobook in the full-length series.
Dragon warrior Wallaig has spent half a century wanting revenge on the rogue faction who blinded him. When they return to Scotland and set their eyes on a young female, he steps in to save her.
Amantha Leblanc is a pastry chef and dreams of owning her own shop. Wallaig breaks into her apartment to defend her and Amantha attacks with a rolling pin. Did I mention Wallaig has a sweet-tooth and Amantha is sassy? I loved their interaction. The back-and-forth banter had me smiling.
It turns out Amantha is a high energy female and wouldn't you know it, his mate. With the enemy circling, Amantha must decide if she will let this dragon warrior defend her. Passion, food talk and bringing her to the Scotland lair kept me listening.
Felicity Munroe once again narrates and provides unique voices for the characters. Her pacing, lilt and tone make listening enjoyable.
Fans of dragons, paranormal romance and fated mates who don't mind novellas will enjoy these quick escapes.

Stay Caffeinated!
Never miss a post by adding Caffeinated to your Inbox
Reading this book contributed to these challenges:
Related Posts