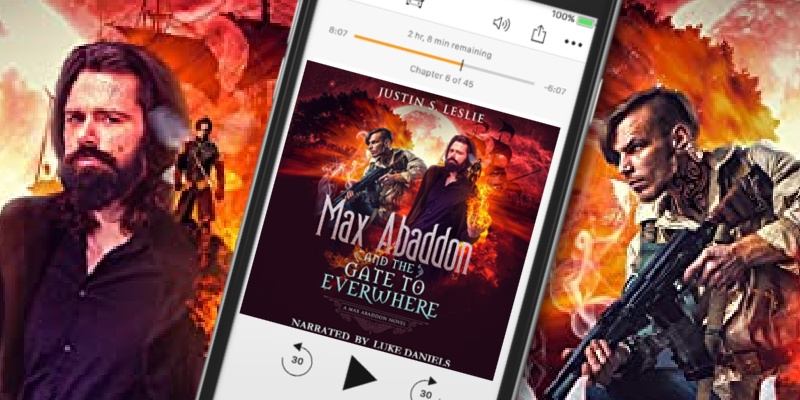 Max Abaddon and The Gate to Everwhere is the third novel in the Max Abaddon urban fantasy series written by Justin Leslie and narrated by Luke Daniels. Fantastic world-building, a likeable protagonist and plenty of snark make this series an autobuy.
Max Abaddon and The Gate to Everwhere
by Justin Leslie
Series: Max Abaddon #3
Narrator: Luke Daniels
Length: 10 hours and 13 minutes
Genres: Urban Fantasy
Source: Purchase
Purchase*: Amazon | Audible *affiliate
Rating:

Narration: 5 cups Speed: 1.3x

Book three in the Max Abaddon Urban Fantasy series.

A lot has changed for Max over the past year. He left his job at the Atheneum, opening his own consulting firm. The Balance has occurred. With the Accords in place, the regular world as well as the magical community are getting acclimated to each other. What Max didn't plan on was his position on the Council keeping him in the middle of current events.

With Tom back and Ned now missing, things are starting to get complicated again. A modified magical drug has hit the streets that can give regular humans a short-term boost of magic; even worse, is it causing the deaths of several people. Max, Phil, Petro, and the rest of the team are again called to help solve the mystery, and for that matter, prevent a possible new enemy from emerging. Or, is it someone they already know?

Will the crew find out who this new enemy is? Again most importantly, will Max and Kim find time for a drink or two at their favorite bar, the Fallen Angel?

Fans of Ben Aaronovitch, Jim Butcher, Ilona Andrews, Benedict Jacka, Kevin Hearne, Richard Kadrey, Shayne Silvers, Patricia Briggs, and BR Kingsolver will not want to miss this latest addition to the urban fantasy scene!
Like most urban fantasy, it is important to listen to this series in the order of its release. For me this third novel had everything clicking into place. Not only do I have a real sense of the characters, tone and the world, but Max and the rest of the motley crew of friends and allies have endeared themselves to me. I slipped in quickly and became completely caught up in the case(s).
Leslie laid the foundation in book one and it paid off as each book has gotten progressively better. Tom is back, Ned is missing and someone is selling a street drug that is affecting humans. Some get a magical boost and others end up dead. Max loves the business he set up and his new digs, but it looks like Council work will throw a wrench in his plans…. especially plans that involve drinks & more time alone with Kim.
Max, Phil, Petro and the others are asked to step in and investigate. We learn more about the room of gates when we learn the drugs are coming from Everwhere, a place filled with trapped souls. Leslie's imagination and the world he has created are brilliant.
Fans of Jim Butcher and Kevin Hearne will feel right at home here. The author weaves a tight, well-paced story with unique characters. The series storyline has endless possibilities and leaves the listener craving more. It looks like Max and his friends will deal with different gates and cases in each new installment. I for one cannot wait.
I recommend listening to this series. Luke Daniels narrates and his performance is stellar. Daniels has created unique voices for each of the characters capturing their personalities and delivering an award-winning performance. He enhances an already brilliant story through tone, inflection, and pacing. Listening to him narrate is always a pleasure. I feel like he brings the stories to life.
I loved the blend of humor, action and snark that the author weaved into The Gate to Everwhere, along with the politics and dealings with the Accord. The characters, even secondary, have depth and added to the overall story. I cannot wait for the next audio!
Max Abaddon and The Gate to Everwhere by Justin Leslie delivered as Max, Phil, Petro and the others investigate a new case. #UrbanFantasy #MaxAbaddon #LukeDaniels #audiiobook
Click To Tweet

Stay Caffeinated!
Never miss a post by adding Caffeinated to your Inbox
Reading this book contributed to these challenges:
Related Posts