The Charley Davidson, urban fantasy series is one of my favorites and I love revisiting the world. Even though the voices were already developed in my head, I tried Quentin and Amber's story on audio. Come learn about the demon hunter in 1001 Dark Nights and Lorelei King fantastic narration in The Gravedigger's Son.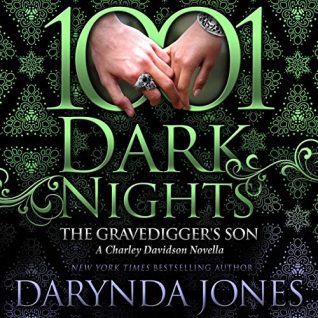 The Gravedigger's Son
by Darynda Jones
Series: Charley Davidson #13.6
Narrator: Lorelei King
Genres: Urban Fantasy
Source: Publisher
Purchase*: Amazon | Audible *affiliate
Rating:

Narration: 5 cups Speed: 1.3x

The job should have been easy.

Get in. Assess the situation. Get out. But for veteran tracker Quentin Rutherford, things get sticky when the girl he's loved since puberty shows up, conducting her own investigation into the strange occurrences of the small, New Mexico town. He knew it would be a risk coming back to the area, but he had no idea Amber Kowalski had become a bona fide PI, investigating things that go bump in the night. He shouldn't be surprised, however. She can see the dead as clearly as he can. The real question is, can she see through him?

But is anything that's worth it ever easy?

To say Amber is shocked to see her childhood crush would be the understatement of her fragile second life. One look at him tells her everything she needs to know. He's changed. So drastically she barely recognises him. He is savage now, a hardened - in all the right places - demon hunter, and she is simply the awkward, lovestruck girl he left behind.

But she doesn't have time to dwell on the past. A supernatural entity has set up shop, and it's up to them to stop it before it kills again.

While thousands of questions burn inside her, she has to put her concern over him, over what he's become, aside for now. Because he's about to learn one, undeniable fact: she's changed, too.
Whether you decide to listen or read The Gravedigger's Son, I am sure you will agree it was fun getting a glimpse into the futures of Amber Kowalski and her high school boyfriend, Quentin Rutherford. The two have separated since we saw them last because of a series of unfortunate events. It was delightful to see their unexpected reunion as the two crossed paths during a case in New Mexico.
The story is told in third person, and not at all typical of what Jones typically delivers. It took me a minute to settle in, but in the end I felt it worked for this novella.
Amber is now a private investigator with her own posse of dead, and Quentin has grown into a man. He's filled out in all the right places and makes his living as a demon hunter. There is a coldness about him, but it's clear the two of them still harbor feelings for each other.
Quentin is tracking an unusual demon that leads him to a small-town in New Mexico. Amber is helping the recently departed. A woman wants to warn her family about the demon. Demons, summoners, awkward moments and all the elements I love in Jones' characters and stories quickly pulled me in.
While this is meant to be read as a standalone, fans of the series will love getting tidbits on beloved characters and seeing our Amber, sassy and all grownup.
Lorelei King did a lovely job narrating the tale. She captures both Amber and Quentin's personalities, even if I had to adjust for the voices in my head. King pairs perfectly with the characters in this series as she captures their voice and personalities. She draws the listener in and enhances the overall tale.
?The Gravedigger's Son by Darynda Jones shares a glimpse into the future with Amber & Quentin, even as it introduces new listeners to the #CharleyDavidson series. #audiobook #1001Nights #urbsnfantasy #NewRelease
Click To Tweet

Stay Caffeinated!
Never miss a post by adding Caffeinated to your Inbox
Reading this book contributed to these challenges:
Related Posts