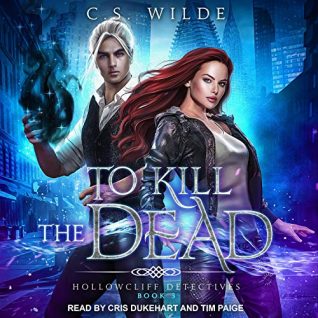 To Kill the Dead
by C.S. Wilde
Series: Hollowcliff Detectives #3
Narrator: Cris Dukehart, Tim Paige
Length: 6 hours and 47 minutes
Genres: Urban Fantasy
Source: Publisher
Purchase*: Amazon | Audible *affiliate
Rating:

Narration: 5 cups Speed: 1.3x

All terrible things come in two.

Mera never imagined she would have to face a necromancer without Bast, her fae partner, but the Captain decided to separate them on a whim - or so she thinks.

Running against the clock to avoid an outbreak that could destroy the human borough, Mera is forced to work with Julian Smith, the man she used to love before the Night Prince came waltzing in her life.

Not good. Not good at all.

Meanwhile, Bast chases Poseidon with the help of his brothers, knowing it's the only way to ensure Mera's safety. He'll do anything to save her, even if it means his doom.

The dead are rising. And Poseidon is coming.
Narrated by Cris Dukehart and Tim Paige, To Kill the Dead by C.S. Wilde is the third audio in the Hollowcliff Detectives series. Frustration gave way to non-stop action in this addictive installment.
The captain splits Mera and Bast up for this next case. Mera once again finds herself partnered with her old partner, Julian. Neither Bast nor Mera is happy about it, but she is off to hunt down a necromancer and Bast heads off to hunt down Poseidon.
I loath love triangles and was worried Wilde was going to mess with me Thankfully, that issue was shaken out so we could get on with the action. To Kill the Dead was intense with moments of humor, alliances, and relationship building. I love Bast's brother and was glad to see him come to his aid. We learn more about Mera and her family, but not before some freaky battles.
Things are coming to a head in the series story arc. Honestly, it's getting intense and I love it! We suffered loss, gained allies, and got hints of things to come. The author left us on the brink and I'll be counting the days until we get answers. The next audiobook is To Kill a God and looks like it will release in January 2022.
Cris Dukehart has become the voice of Mera, and I always enjoy her narrations. Tim Paige tackles the perspective of Bast and I enjoyed it, even if I wanted Bast to me a little more confident. The two pair nicely regarding pacing and tone.

Stay Caffeinated!
Never miss a post by adding Caffeinated to your Inbox
Reading this book contributed to these challenges:
Related Posts