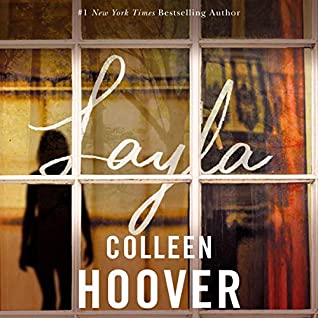 Layla
by Colleen Hoover
Narrator: Brian Pallino
Length: 8 hours and 10 minutes
Genres: Paranormal Romance
Source: Purchase
Purchase*: Amazon | Audible *affiliate
Rating:

Narration: 5 cups Speed: 1.3x

rom number one New York Times bestselling author Colleen Hoover comes a novel that explores life after tragedy and the enduring spirit of love.

When Leeds meets Layla, he's convinced he'll spend the rest of his life with her - until an unexpected attack leaves Layla fighting for her life. After weeks in the hospital, Layla recovers physically, but the emotional and mental scarring has altered the woman Leeds fell in love with. In order to put their relationship back on track, Leeds whisks Layla away to the bed-and-breakfast where they first met. Once they arrive, Layla's behavior takes a bizarre turn. And that's just one of many inexplicable occurrences.

Feeling distant from Layla, Leeds soon finds solace in Willow - another guest of the B&B with whom he forms a connection through their shared concerns. As his curiosity for Willow grows, his decision to help her find answers puts him in direct conflict with Layla's well-being. Leeds soon realizes he has to make a choice because he can't help both of them. But if he makes the wrong choice, it could be detrimental for all of them.
With Eric Clapton's lyrics dancing in my head, I settled down to listen to Layla by Colleen Hoover. Her last few books have blown me away, and this paranormal romantic suspense delivered plenty of twists.
Narrated by the late Brian Pallino, Hoover delivered a love story and ghost story with a You vibe.
We get to know Layla and Leeds during their meet cute, and from the start they pulled in me with their chemistry. Then Hoover takes us to after a horrific event. We kind of know what happened, but learn more once they arrive back at the place they first met.
The story splits between events at the bed-and-breakfast and an interview with a stranger. I was riveted. Layla, Leeds, and Willow blew me away. I've read plenty of paranormal, supernatural books, but Hoover's story is fresh and felt plausible.
Honestly, saying more would spoil the story. The book/audio is in Kindle Unlimited and you can purchase and add Audio for $1.99. It is 100% worth it.
Pallino captured the characters and tone perfectly. I could not set this down. He gave voice to these characters and helped set the tone.
It's a romance and a paranormal story with depth and flawed characters you will think about long after the story has ended. The whole what if and possibility… dang Colleen!
If you loved Verity, you'll want to devour Layla.
Looking for a twisty paranormal romance that will stay with you? Check out Layla by Colleen Hoover. Narrated by Brian Pallino. #KindleUnlimited #Audiobook #MustListen
Click To Tweet
Reading this book contributed to these challenges:
Related Posts