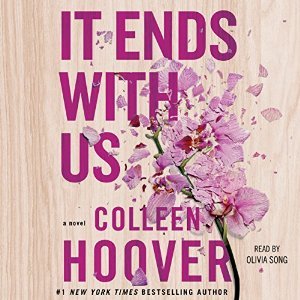 It Ends with Us
by Colleen Hoover
Narrator: Olivia Song
Length: 11 hours and 11 minutes
Genres: Contemporary Romance
Source: Publisher
Purchase*: Amazon | Audible *affiliate
Rating:

Narration: 4 cups
Sometimes it is the one who loves you who hurts you the most.

Lily hasn't always had it easy, but that's never stopped her from working hard for the life she wants. She's come a long way from the small town in Maine where she grew up—she graduated from college, moved to Boston, and started her own business. So when she feels a spark with a gorgeous neurosurgeon named Ryle Kincaid, everything in Lily's life suddenly seems almost too good to be true.

Ryle is assertive, stubborn, maybe even a little arrogant. He's also sensitive, brilliant, and has a total soft spot for Lily. And the way he looks in scrubs certainly doesn't hurt. Lily can't get him out of her head. But Ryle's complete aversion to relationships is disturbing. Even as Lily finds herself becoming the exception to his "no dating" rule, she can't help but wonder what made him that way in the first place.

As questions about her new relationship overwhelm her, so do thoughts of Atlas Corrigan—her first love and a link to the past she left behind. He was her kindred spirit, her protector. When Atlas suddenly reappears, everything Lily has built with Ryle is threatened.
It Ends with Us by Colleen Hoover narrated by Oliva Song explored the complexities of loving those who hurt us. This might surprise you, but I always go into Hoover's stories blind. I never read the blurb, avoid reviews and just experience them.  It Ends with Us was heartbreaking and while there is romance this book is more about a serious issue.
I will keep this review spoiler free and only share my thoughts
Caffeinated Aspects
I loved how the story began and liked Lily's voice from the onset.
Ryle and Lily share a slow-building relationship and I enjoyed the banter.
Despite what you may think, there is no love triangle or cheating.
Hoover used journal entries written by Lily to a celebrity as a young teen. I loved the references to a character they portrayed. It allowed me to understand Lily and her relationship to Atlas.
I adored Atlas and his story.
Hoover addresses a complex subject and calls out those who do not understand the whys and how. This happens every day and it is so easy to say, "I would do this" or "what is wrong with her?"
I think Hoover made a strong case for Lily's behavior, reasoning and reactions. While Lily makes mistakes, I understood her struggle and appreciated her growth. Ultimately, I am satisfied with the outcome.
I appreciated the emotional support, and sound advice presented even if I wanted more. This is after all one of those "dirty-little-secrets"
The author's note was raw and honest giving substance to Lily and Ryle's story.
Oliver Song was perfect for this narration. I think she captured Lily. Her male voices were strong, and did not have that raspy hoarse tone we often hear from a female narrator.
Decaffeinated Aspects
While we learn about Ryle's past, I did not feel like it was explored enough. I could not grasp what connection the author was trying to make between events that take place and his past. I would have gone another more proven route.
Lily's BFF had an issue and despite loving the thread that followed  it felt forced to answer a question. I just do not think it was the right one.
While this story was about Lily, I would have liked to have had seen dialogue between Ryle and his family.
I liked the ending but would have liked to hear professional counseling was involved. Although in reality, this is not always the case.
It Ends With Us contains a subject that may be a trigger for some readers. Warning: Clicking spoiler does share subject matter View Spoiler »Deals with domestic abuse, violence against women, and shares a brutal non-sexual attack on a young man. « Hide Spoiler
[bctt tweet="The audio of It Ends With Us by Colleen Hoover was a powerful tale with a slice of happy" username="kimbacaffeinate"]
Related Posts