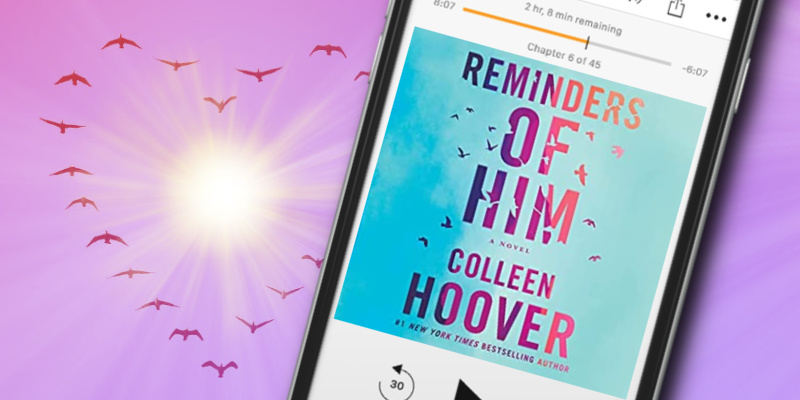 Colleen Hoover delivers unforgettable feels from her contemporary romances to her paranormal stories and I dove into Reminders of Him prepared to laugh, cry and swoon… I wasn't wrong. This poignant story touches on loss, motherhood, forgiveness and love.
Reminders of Him
by Colleen Hoover
Narrator: Brittany Pressley, Ryan West
Length: 10 hours and 17 minutes
Genres: Fiction
Purchase*: Amazon | Audible *affiliate
Rating:

Heat Level:


Narration: 5 cups Speed: 1.3x

A troubled young mother yearns for a shot at redemption in this heartbreaking yet hopeful story from #1 New York Times bestselling author Colleen Hoover.

After serving five years in prison for a tragic mistake, Kenna Rowan returns to the town where it all went wrong, hoping to reunite with her four-year-old daughter. But the bridges Kenna burned are proving impossible to rebuild. Everyone in her daughter's life is determined to shut Kenna out, no matter how hard she works to prove herself.

The only person who hasn't closed the door on her completely is Ledger Ward, a local bar owner and one of the few remaining links to Kenna's daughter. But if anyone were to discover how Ledger is slowly becoming an important part of Kenna's life, both would risk losing the trust of everyone important to them.

The two form a connection despite the pressure surrounding them, but as their romance grows, so does the risk. Kenna must find a way to absolve the mistakes of her past in order to build a future out of hope and healing.
Narrated by Brittany Pressley and Ryan West, I settled in with a glass of wine and some chocolate truffles to listen to Reminders of Him. The story begins as Kenna Rowan returns to the town where a tragic mistake caused her to spend five years in prison. Here she hopes to reconnect with the only positive thing left from that night. The tale that unfolds pulled me in emotionally and held me until that last page. I laughed, cried, held my breath, and once again found myself in awe of Hoover's writing.
Kenna is hoping to reconnect with her four-year-old daughter. When she heads to the bookstore, she once had happy memories. Instead, she finds it is now a bar. She steps in and orders a cup of coffee. Here she meets Ledger Ward and the two connect before she discovers he has a relationship with Kenna's daughter and ties to her tragic past.
I loved Kenna from her determination to her letter writing. The pain, loss and guilt she carries are so heavy. I felt her loneliness, desperateness and willingness to do the right thing for her daughter. Hoover makes your heart bleed for her as we get to know her, and what she went through. I know people who have made tragic mistakes or missteps and know firsthand how they suffered and survived. Even to this day, they are still judged for that one moment. Hoover shed light on what they endure. It allows the listener/reader to reflect on judgment and our own actions.
I loved Ledger despite some things he did and said. He is loyal, loving, but not without flaws. He struggles with protecting those he loves, the little girl he loves as his own and coming to terms with what he thought he knew about Kenna and that tragic night to the woman before him who bares her soul.
I recommend Reminders of Him to those who love fictional stories surrounding love, loss, tragic mistakes and forgiveness. Readers who enjoy women's fiction with strong romantic elements and who aren't afraid to cry.
Brittany Pressley and Ryan West nailed the narrations. Brittany brought Kenna to life, sharing her vulnerability. Ryan did the same for Ledger and I couldn't have picked better narrators for this story. They enhanced Hoover's story, bringing voice to these characters.
*Available in Kindle Unlimited
Grab the chocolate truffles and turn off the outside world. Narrated by Ryan West and Brittany Pressley, Reminders of Him by Colleen Hoover delivered from start to finish. #audiobook #autobuy #WomensFictionRomance #Fiction…
Click To Tweet

Stay Caffeinated!
Never miss a post by adding Caffeinated to your Inbox
Reading this book contributed to these challenges:
Related Posts