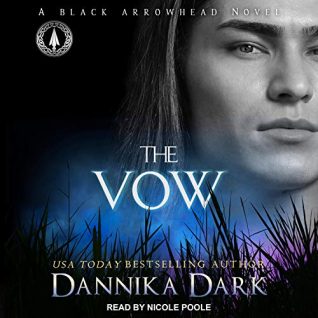 The Vow
by Dannika Dark
Series: Black Arrowhead #1
Narrator: Nicole Poole
Length: 10 hours
Genres: Paranormal Romance
Source: Publisher
Purchase*: Amazon | Audible *affiliate
Rating:

Heat Level:

Narration: 4 cups Speed: 1.3x

Sometimes a wolf has to stand alone to find out what he's made of.

Book 1 Melody is an ambitious entrepreneur who has always loved the thrill of a new adventure, but she's about to get more than she bargained for when the only way to save her business is to secure a deal with a powerful tribal leader. Running Horse, Oklahoma, isn't on the map, and Mel is about as lost as a Shifter can get. When she unexpectedly runs into her best friend's brother, her friendly visit quickly turns treacherous.

Lakota Cross is a man with secrets. While tracking a killer, he reunites with Melody, and their friendship sparks into a passionate affair. But if he doesn't quell the fire soon, it might burn out of control.

Once again, fate brings these two Shifters together in a moment of need. But will the sacrifice be greater than the reward?
I was over the moon excited to hear there would be a new series is the Mageriverse world. The Vow by Dannika Dark is the first in the Black Arrowhead series, set in the same world as her other series. The story takes us to Oklahoma, where prejudice and danger go hand in hand.
I love when stories tie together, or should I say moments. It is unnecessary to have listened to Dark's other series, but I have a feeling you'll add them to your TBR pile if you begin this.
Melody and Hope are opening up a shop and preparing for their grand opening in just a few short weeks. Their stone supplier tries to take advantage, and they set out to secure another supplier. Hope goes one way, and Melody heads to Running Horse, Oklahoma. A rainstorm and vague directions soon have her lost and pulling into a bar promising burgers. Right away Melody senses tension and is shocked when Hope's brother, a bounty hunter, walks in. She pretends not to know him, but oh boy has he grown up.
The tale that unfolds has a bit of a suspenseful murder-mystery, a look into tribal clans and prejudice that exist even between the shifters. It also delivers a snarky, sweet, oh so hot romance that fans and newcomers will swoon over.
Melody is strong, independent, and smitten. Can she trust a man not to smother her? Can she come to an agreement with the stone dealer? Will she be able to get home in time for the grand reopening? Will she lose her heart to the boy who once saved her? Eep…you'll need to listen to find out!
Nicole Poole narrates and I adore her, but Melody's voice sounded like Raven's to me. Despite that, she delivered an excellent narration and picks up on all the little nuances of each character.
Whether you listen or read it, fans of shifters, romances and fantasy need to grab this series and slip into this world Dark has created. You won't be sorry!
Grab your headphones and devour The Vow by Dannika Dark, narrated by Nicole Poole. Romance, shifters and suspense await you. #Arrowhead #PNR #Mageriverse #TantorAudio
Click To Tweet
Reading this book contributed to these challenges:
Related Posts