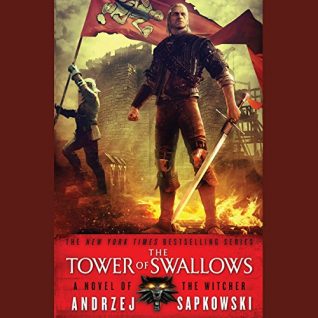 The Tower of Swallows
by Andrzej Sapkowski
Series: The Witcher #4
Narrator: Peter Kenny
Length: 16 hours and 25 minutes
Genres: Fantasy
Source: Purchase
Purchase*: Amazon | Audible *affiliate
Rating:

Narration: 5 cups Speed: 1.3x

The Witcher returns in this action-packed sequel to Baptism of Fire, in the New York Times bestselling series that inspired The Witcher video games.

The world has fallen into war. Ciri, the child of prophecy, has vanished. Hunted by friends and foes alike, she has taken on the guise of a petty bandit and lives free for the first time in her life.

But the net around her is closing. Geralt, the Witcher, has assembled a group of allies determined to rescue her. Both sides of the war have sent brutal mercenaries to hunt her down. Her crimes have made her famous.

There is only one place left to run. The tower of the swallow is waiting...
The Tower of Swallows written by Andrzej Sapkowski and narrated by Peter Kenny is the fourth audio in the Witcher series. Gather round the fire for another addictive installment.
When our story opens a hermit called Vysogota finds a badly injured boy in the forest and takes him to his home… only the boy is Ciri. The hermits home is well-hidden and we discover he is both a scholar and medical practitioner.
Ciri awakens and wants to leave because Bonhart, a bounty hunter, is tracking her. Assured that she is safe, the two sit around the fire and chat and thus our story begins.
While we listen the story also takes us to other parts of this world. We drop in on Geralt and his motley crew of misfits. (the vampire, archer, poet and swordsman) They are looking for druids who may know where Ceri is. We also get perspectives with Jennifer. I will be interested to hear how your opinions of Geralt differ from the first book to this one. Ciri shows tremendous growth as this audio ends.
Politics and events occurring in the world are like pieces on a chessboard. While I loved the monster-slaying and destiny angles of this series, it is the dialogue between the characters and Sapkowski's ability to weave a fascinating world that makes this series enjoyable for me. I loved the conversations between the characters. Dandelion and Geralt are among my favorites.
While I miss the action I've come to care for these characters, even if they sometimes whine and get frustrated. The depth brought to each and the growth and perspective make them feel real.
Peter Kenny's narration is stellar. He pulls you in with his tone and gives each character's their own voice. His voice is in a word; magical.
I am looking forward to the Lady of the Lake.
Gather round the fire for another round of stories and progress in the Witcher series with The Tower of Swallows by Andrzej Sapkowski. Narrated by Peter Kenny. #audiobook #fantasy #TheWitcher
Click To Tweet
Reading this book contributed to these challenges:
Related Posts