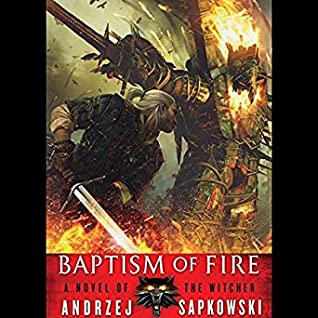 Baptism of Fire
by Andrzej Sapkowski
Series: The Witcher #3
Narrator: Peter Kenny
Length: 11 hours and 59 minutes
Genres: Fantasy
Source: Purchase
Purchase*: Amazon | Audible *affiliate
Rating:

Narration: 5 cups Speed: 1.3x

The Wizard's Guild has been shattered by a coup, and in the uproar Geralt was seriously injured. The witcher is supposed to be a guardian of the innocent, a protector of those in need, a defender against powerful and dangerous monsters that prey on men in dark times.

But now that dark times have fallen upon the world, Geralt is helpless until he has recovered from his injuries.

While war rages across all of the lands, the future of magic is under threat, and those sorcerers who survive are determined to protect it. It's an impossible situation in which to find one girl - Ciri, the heiress to the throne of Cintra, has vanished - until a rumor places her in the Niflgaard court, preparing to marry the emperor.

Injured or not, Geralt has a rescue mission on his hands.

The witcher returns in this action-packed sequel to The Time of Contempt.
Baptism of Fire by Andrzej Sapkowski is the third audiobook in the Witcher series and after the ending of The Time of Contempt, I was eager to see how our friends had fared. Dark and addictive, Geralt separated from Ciri must travel to find her. This is his journey….
Injured Geralt has been healing in magic caves as the world faces bleak times. Ciri, the heiress to the throne of Cintra, hasn't been seen since the fall of Wizards Guild.
Despite not being fully healed, Geralt sets out to find Ciri. Rumors have circulated that Ciri has been spotted within the Niflgaard court and that she is preparing to marry the Emperor.
Dandelion accompanies Geralt, and they gather unexpected allies as they travel. Wars are raging and cites have tumbled. I am enjoying the band of friends and allies we are gathering. I truly hope some of them stay.
Political maneuvers and side stories move us ever closer to Ciri. Yennifer is mentioned once or twice and I look forward to reuniting with her. Geralt is still trying to remain neutral, but even he realizes that might be impossible.
Once again I was pulled into the stories, intrigued by the unique characters and eager for our three to be together again. We are treated to horrors, bravery, unique creatures and more.
The ending felt abrupt. Our story is far from over, and I felt a sense of the darkness shrouding the world.
I look forward to diving into the next audiobook. Peter Kenny continues to narrator and has become the voice of these characters.
Baptism of Fire by Andrzej Sapkowski has us gathering allies as we move ever closer to finding Ciri. #audiobook #TheWitcher
Click To Tweet
recommended listening order
Reading this book contributed to these challenges:
Related Posts