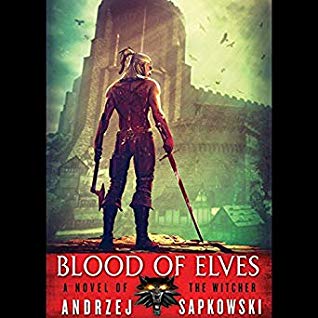 Blood of Elves
by Andrzej Sapkowski
Series: The Witcher #1
Narrator: Peter Kenny
Length: 10 hours 55 minutes
Genres: Fantasy
Source: Purchase
Purchase*: Amazon | Audible *affiliate
Rating:

Narration: 5 cups Speed: 1.25x

For more than a hundred years humans, dwarves, gnomes and elves lived together in relative peace. But times have changed, the uneasy peace is over and now the races once again fight each other - and themselves: Dwarves are killing their kinsmen, and elves are murdering humans and elves, at least those elves who are friendly to humans... Into this tumultuous time is born a child for whom the witchers of the world have been waiting.

Ciri, the granddaughter of Queen Calanthe, the Lioness of Cintra, has strange powers and a stranger destiny, for prophecy names her the Flame, one with the power to change the world - for good, or for evil... Geralt, the Witcher of Rivia, has taken Ciri to the relative safety of the Witchers' Settlement, but it soon becomes clear that Ciri isn't like the other Witchers. As the political situation grows ever dimmer and the threat of war hangs almost palpably over the land, Geralt searches for someone to train Ciri's unique powers.

But someone else has an eye on the young girl, someone who understand exactly what the prophecy means - and exactly what Ciri's power can do. This time Geralt may have met his match.
Blood of Elves by Andrzej Sapkowski is the first full-length Witcher novel, and I listened to the narration of Peter Kenny on audio. Richly detailed, this expands the world and characters from the prequel short stories found in The Last Wish and Sword of Destiny.
Having listened to the short stories first, I can see now why it is recommended that you begin with them. For me, it increased my enjoyment of Blood of Elves. While this lacked some of the fast-paced excitement of the short stories and monster battles provided, it expands the world and gave depth to characters I've already developed a kinship with.
Geralt of Rivia seeking to protect Ciri, takes her to the Witcher halls of Kaer Morten. Here he and other Witchers train her in combat, but also seek help from Triss and Yennefer. I found the keep, the relationships and Ciri's abilities fascinating. A large portion of the audio surrounds Ciri and her training and powers. This keeps action low, but the world building is spectacular from legends to politics and the danger is ever present.
The story offers a nice mix of humor, magic, snark and history of a world filled with kingdoms, fae, elves, monsters, sorcerers, witches and things of lore.
Don't fret though, we do get some battle as someone is hunting Geralt in search of the girl. The tale is told in multiple POVs but Peter Kenny made their delivery smooth. We only had one chapter from Geralt and while I missed his perspective the others gave us great insight.
Since I am not a gamer, I am beyond grateful to Netflix for introducing me to this world, and have already begun devouring the next audiobook, The Time of Contempt. As a reader/listener it makes me giddy seeing this book sold out everywhere.
Blood of Elves by Andrzej Sapkowski the first full-length novel in the #Witcher series delivers a mix of humor, magic, snark and history #TheWitcher #Fantasy #audiobook
Click To Tweet
Reading this book contributed to these challenges:
Related Posts