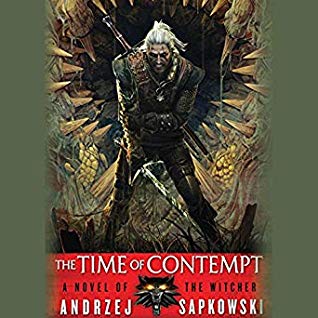 The Time of Contempt
by Andrzej Sapkowski
Series: The Witcher #2
Narrator: Peter Kenny
Length: 11 hours 55 minutes
Genres: Fantasy
Source: Purchase
Purchase*: Amazon | Audible *affiliate
Rating:

Narration: 5 cups Speed: 1.2x

The Witcher returns in this sequel to 'BLOOD OF ELVES', in the series that inspired 'The Witcher' video games.

Geralt is a Witcher: guardian of the innocent, protector of those in need; a defender, in dark times, against some of the most frightening creatures of myth and legend. His task now is to protect Ciri. A child of prophecy, she will have the power to change the world for good or for ill - but only if she lives to use it.

A coup threatens the Wizard's Guild.

War breaks out across the lands.

A serious injury leaves Geralt fighting for his life. . .
The Time of Contempt by Andrzej Sapkowski is the second audiobook in the Witcher series. Complex and centered on Geralt, Yennifer and Ciri, the world is at war and the danger is escalating.
Geralt is battling monsters and Yennifer is headed to the Conclave of Mages on the Isle of Thanedd, but first she plans to escort Ceri to a school for enchantresses. All three will be reunited at the Conclave where all hell has broken loose and the three are separated once more.
This was an engaging second novel as the author introduced minor characters and the politics that is war. Geralt is finding it hard to keep his truth north and to remain neutral.
We get to know Ceri more in the Time of Contempt. She is stubborn and her seer abilities are growing. She wants to be with Geralt and train with him. Like a child she doesn't understand the dangers. Ceri faces many trials and begins to shape her own future.
This installment brings more magic, battles, political intrigue, and danger as the story focuses on Ceri. The child of Destiny. The lioness cub.
Sapkowski has created a world that enthralls me, and Ceri's time in the desert, the monsters and the gang she encounters kept me up listening. This is where I wish I could unfurl a map in my head and connect places. The author does a fantastic job bringing everything to life and has me craving more.
Peter Kenny is brilliant in his narration of this series. From his voices to his ability to enhance the suspenseful moments. His repertoire of voices astounds me.
The ending has me wanting to dive into the Baptism of Fire, the third audiobook. With a title like that, I am expecting things to be tense!
We spend time with the child of destiny, the young lioness cub in The Time of Contempt by Andrzej Sapkowski #Fantasy #Audiobook #TheWitcher
Click To Tweet
Reading this book contributed to these challenges:
Related Posts