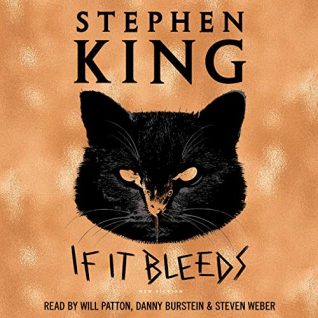 If It Bleeds
by Stephen King
Narrator: Will Patton, Danny Burstein, Steven Weber
Length: 15 hours and 12 minutes
Genres: Horror
Source: Publisher
Purchase*: Amazon | Audible *affiliate
Rating:

Narration: 5 cups Speed: 1.3x

From #1 New York Times bestselling author, legendary storyteller, and master of short fiction Stephen King comes an extraordinary collection of four new and compelling novellas—Mr. Harrigan's Phone, The Life of Chuck, Rat, and the title story If It Bleeds—each pulling you into intriguing and frightening places.

The novella is a form King has returned to over and over again in the course of his amazing career, and many have been made into iconic films, including "The Body" (Stand By Me) and "Rita Hayworth and Shawshank Redemption" (Shawshank Redemption). Like Four Past Midnight, Different Seasons, and most recently Full Dark, No Stars, If It Bleeds is a uniquely satisfying collection of longer short fiction by an incomparably gifted writer.
If It Bleed by Stephen King is a collection of four novellas, a favorite format for this King fan. Buckle up and enjoy these four chilling tales…
Fun fact; Most of Stephen King's short-stories were adapted to film. You might be familiar with Children of the Corn, Shawshank Redemption, Lawnmower Man, Skeleton Crew and In the Tall Grass to name just a few.
Mr. Harrigan's Phone
Rating:
Narrated by Will Patton. This story is told by Craig, whom we first meet as an adolescent boy. He reads, waters the plants and befriends Mr. Harrigan, a retired businessman who reportedly made millions.
Each holiday or special occasion Mr. Harrigan's sends young Craig a personal letter and encloses a scratch lottery ticket. One of those tickets won the big cash prize and to thank Mr. Harrigan, Craig buys him one of the first iPhones. Mr. Harrigan is old school, but Craig soon has him using the phone. When Mr. Harrigan dies, Craig slips the phone into his casket and a strange relationship begins from beyond.
First, Will Patton is a favorite narrator, particularly for King's stories. His voices and tone enhance the stories and pull me in. The tale is atmospheric and has just the right touches of paranormal woo-woo to raise the hair on the back of your neck.
---
The Life of Chuck
Rating:
Narrated by new to me narrator Danny Burstein. Fresh, captivating and chilling. I devoured this with all its creepy connections. The story is told in parts. The first is the end of the world where ads pop up thanking Chuck Krantz for 39 years!! Then we follow Chuck Krantz's life. Some things are better left unknown…..
The story unfolded brilliantly and the connections to everything happening once again prove King rules. Burstein did a stellar job with the narration and multiple characters. His tone enhanced the tale and I look forward to hearing more of his narrations.
---
If It Bleeds
Rating:
Narrated by Will Patton. Eep! This was so good. If you are a fan of the Outsider and the Mr. Merćedes trilogy you are in for a treat. This tale begins when Detective Ralph Anderson from the Outsiders opens an envelope and finds a thumb drive titled If It Bleeds and other goodies. The package contains a note from Holly Gibney. (Outsiders and Mr. Mercedes character) warning him that is she is dead, and he pursues this to be careful. Right away I knew this would be good. I was wrong… it was outstanding!
A tragedy in Pineborough, Pennsylvania, sets Holly on edge. She wonders why the reporter on scene seems off. Holly investigates and ends up experiencing déjà vu. That is all I am saying. It was brilliant.
Will Patton was perfect for the narration from Holly to the reporter. I got goosebumps and couldn't set this down.
---
Rat
Rating:
Narrated by Steven Weber. I've enjoyed Weber before and easily slipped into this story about writer Drew Larson, who received some recognition for a short-story but hasn't been able to write beyond that. He goes off to the family cabin to write when a story forms, leaving his wife and kids at home.
When Drew arrives at the isolated cabin, he comes up with a plan. Things begin well as he writes his western story, but as the sense of foreboding build, a storm rolls in as Drew once again finds himself with writer's block and horrible cold. He soon makes an unthinkable bargain…. Eep!
---
If It Bleeds rocked on Audio and was just the horror fix I needed. From the stellar cast of narrators to King's ability to weave tales that make you turn on the lights, this was the perfect collection. Audio has become my preferred format for all of King's books.
Buckle up and listen to these four chilling tales… If It Bleeds by Stephen King #audiobook #horror #FaveNarrators #creeptastic
Click To Tweet
Reading this book contributed to these challenges:
Related Posts