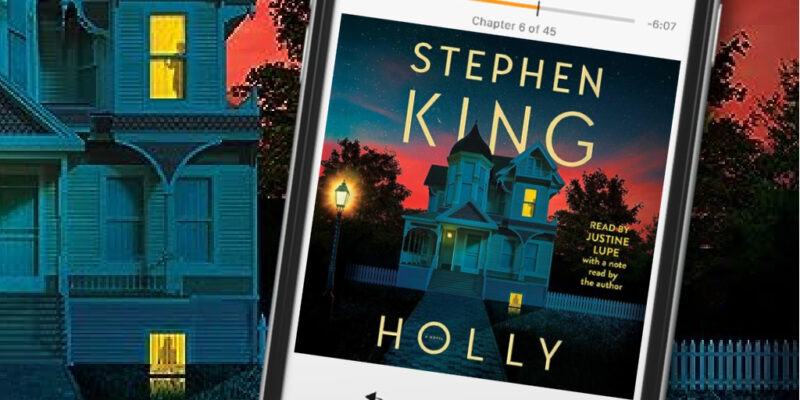 Holly Gibney is one of my favorite Stephen King's character. She first appeared in the Bill Hodges trilogy as Bill Hodges partner, and in The Outsider and its novella, If It Bleeds as a private detective. Grab a cuppa and see why I recommend you listen to Holly.
Holly
by Stephen King
Narrator: Justine Lupe
Length: 15 hours and 24 minutes
Genres: Horror
Source: Publisher
Purchase*: Amazon | Audible *affiliate
Rating:

Narration: 5 cups Speed: 1.5x

Stephen King's Holly marks the triumphant return of beloved King character Holly Gibney. Readers have witnessed Holly's gradual transformation from a shy (but also brave and ethical) recluse in Mr. Mercedes to Bill Hodges's partner in Finders Keepers to a full-fledged, smart, and occasionally tough private detective in The Outsider. In King's new novel, Holly is on her own, and up against a pair of unimaginably depraved and brilliantly disguised adversaries.

When Penny Dahl calls the Finders Keepers detective agency hoping for help locating her missing daughter, Holly is reluctant to accept the case. Her partner, Pete, has Covid. Her (very complicated) mother has just died. And Holly is meant to be on leave. But something in Penny Dahl's desperate voice makes it impossible for Holly to turn her down.

Mere blocks from where Bonnie Dahl disappeared live Professors Rodney and Emily Harris. They are the picture of bourgeois respectability: married octogenarians, devoted to each other, and semi-retired lifelong academics. But they are harboring an unholy secret in the basement of their well-kept, book-lined home, one that may be related to Bonnie's disappearance. And it will prove nearly impossible to discover what they are up to: they are savvy, they are patient, and they are ruthless.

Holly must summon all her formidable talents to outthink and outmaneuver the shockingly twisted professors in this chilling new masterwork from Stephen King.
When Penny Dahl calls Finders Keepers desperate to find her missing daughter, Holly almost doesn't take the case. Her partner Peter out with Covid, but something in Penny's voice has Holly accepting the case. The tale that unfolds leads to unthinkable horrors. Once again, King pulled me into a dark story that held me captive.
Narrator Justine Lupe brought a voice to Holly and others. She captured the tone and this creeptastic tale came to life. King is an autobuy for me. In the beginning I bought the hardcovers, but once I heard one of his stories, audio became my preferred format.
Married octogenarians, Professors Rodney and Emily Harris, seem to live a respectable life. They are active in the community, but not even their neighbors are aware of activities taking place in their basement. What we discover will shock you.
Holly was a clever. Working with very little clues it leads to more missing persons. King touches on some relevant topics, including societies' race, to remain youthful. Holly really has to dig in on this case and she slowly pieces things together. A hunch leads her to the Harris home, but will she survive? You'll need to listen to discover for yourself.
While Holly Gibney has appeared in the Bill Hodges series and The Outsider, along with the anthology If It Bleeds, this book, Holly can be read as a standalone. If you are like me, you've read all of his works and I can assure you this is the perfect fall listen.
Holly by Stephen King delivered a dark, engaging tales Holly Gibney takes on a missing persons case. #audiobook #NewRelease #JustineLupe
Click To Tweet

Stay Caffeinated!
Never miss a post by adding Caffeinated to your Inbox
Reading this book contributed to these challenges:
Related Posts