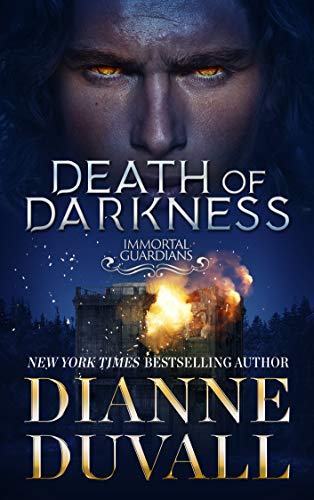 Death of Darkness
by Dianne Duvall
Series: Immortal Guardians #9
Genres: Paranormal Romance
Source: Purchase
Purchase*: Amazon | Audible *affiliate
Rating:

Heat Level:
Seth has led the Immortal Guardians for thousands of years. With them fighting by his side, he has protected humans from psychotic vampires, defeated corrupt mercenary armies, defended military bases under attack, and more. But the latest enemy to rise against the Immortal Guardians has proven to be a formidable one, wielding almost as much power as Seth. His goal is simple. He wants to watch the world burn. And he will use every means at his disposal to accomplish it. Seth and his Immortal Guardians have succeeded thus far in staving off Armageddon despite heartbreaking losses. But they have never before faced such danger. Seth has only one wish: to protect his Immortal Guardians family and ensure the continuation of humanity by defeating his foe. But then Leah walks into his life and sparks a new desire.

Leah Somerson has suffered losses of her own. It has taken her a long time to rebuild her life and find some semblance of peace. Then one night a tall, dark, powerful immortal with what appears to be the weight of the world on his shoulders stumbles into her shop, and everything changes. Peace and contentment are no longer enough. Now she wants more. She wants to find happiness. She wants to erase the darkness in Seth's eyes and replace it with love and laughter. She knows he's different in ways that make most fear him. Even some of his immortal brethren keep a careful distance. But Leah will not. Nor will she shy away when danger strikes.
I love the Immortal Guardians series by Dianne Duvall and bought Death of Darkness of release day. I finally found the perfect time to snuggle up with Seth's story and it was all that I hoped for and more.
I have longed for Seth's story, but also feared his story would signal the end of the series. Once Duvall assured readers it was not, I dove in. Seth is the parental figure of the Immortals, the worrier, the one who wants everyone happy and who puts their needs first. To see him finally open up, share and bring the rain was delightful.
Like life, love often finds you at the most inopportune times. Gershom has captured immortals, vampire attacks are on the rise and Seth is working round the clock to aid them. But he has also been dreaming about a woman. That woman turns out to be Leah Somerson. The woman who owns the clothing & toy store that his granddaughter loves.
His immortal and human teams sense something and plan for the two to spend time together. It begins as friendship even though the chemistry is present. Honestly, this slow moving romance was so sexy and sweet moments took my breath away. It was tender and filled with laughter, shared secrets, confessions, pain and more. Simply beautiful. ?
The suspense thread was off the charts. Danger, brutality, and unexpected aid had me bouncing back and forth between holding my breath, bawling like a baby and dancing with glee. So many questions answered. Thank goodness Duvall stated there would be more books upfront because I would have surely thought this was the end. I am delighted, but also curious as to what changes if any these developments will bring to the mix.
I absolutely loved the ending. It was what I wanted, and I closed this book grinning like a fool.
Reading this book contributed to these challenges:
Related Posts