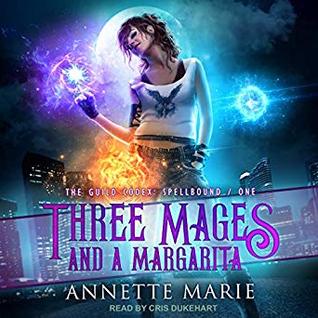 Three Mages and a Margarita
by Annette Marie
Series: The Guild Codex: Spellbound #1
Narrator: Cris Dukehart
Length: 7 hours and 14 minutes
Genres: Urban Fantasy
Source: Purchase
Purchase*: Amazon | Audible *affiliate
Rating:

Narration: 4.5 cups Speed: 1.3x

Broke, almost homeless, and recently fired. Those are my official reasons for answering a wanted ad for a skeevy-looking bartender gig.

It went downhill the moment they asked me to do a trial shift instead of an interview — to see if I'd mesh with their "special" clientele. I think that part went great. Their customers were complete dickheads, and I was an asshole right back. That's the definition of fitting in, right?

I expected to get thrown out on my ass. Instead, they… offered me the job?

It turns out this place isn't a bar. It's a guild. And the three cocky guys I drenched with a margarita during my trial? Yeah, they were mages. Either I'm exactly the kind of takes-no-shit bartender this guild needs, or there's a good reason no one else wants to work here.

So what's a broke girl to do? Take the job, of course — with a pay raise.
Three Mages and a Margarita by Annette Marie is a fun, snarky urban fantasy series with a human heroine who stumbles into a supernatural guild. Laughter, friendship, kickassary and more await you!
Fellow blogger reviews put this series on my radar. I had to laugh at the footnotes on Goodreads from the author, stating this wasn't a reverse harem story and each book ended without a cliffhanger. I guess the title caused some confusing. LOL This is urban fantasy at its finest.
Tori our twenty-one-year-old heroine is sleeping on her brothers couch while attending college and working at service industry. Tori is a redhead with a temper or maybe she just experiences the customers from hell. After an incident that gets her fired she begins apply for open waitressing gigs and finds herself blackballed by local businesses.
Depressed but not deterred she heads to the next business on her list when she finds an ad for a bartender at the Crow and Hammer. It borders between the upper and lower side of town but still within walking distance. When she arrives, an overwhelming feeling to run hits her, but Tori pushes through and somehow gets a trial gig. The tale that unfolds was hilarious, sweet, and. snark. It was an all around fun urban fantasy with some suspenseful threads and kickassary.
The three mages are friends/roommates and work together collecting bounties. Tori's interaction with each was unique. There is a little love interest. However, with someone trying to capture a mage and Tori getting into trouble the romance was served as a side dish.
The current threat wrapped up leaving us in a good place. Three Mages and a Margarita set the tone for the series while establishing the world. We encountered different supernatural creatures, learned about the different guilds and how the supernatural remain hidden among the human world.
New to me narrator Cris Dukehart did a fantastic job with Tori and the rest of the gang. She captured their emotions, enhanced the snark and gave each a unique voice.
Snark, friendship and kickassery await you in his fun filled light urban fantasy. Look for my reviews of the next three books, Dark Arts and A Daiquiri , Two Witches and A Whiskey, and Demon Magic and A Martini this summer. A fifth book, The Alchemist and an Amaretto releases in October.
Laughter, friendship, kickassary and more await you, Three Mages and a Margarita by Annette Marie #iloveaudiobooks #UrbanFantasy #GuildCodexSpellbound
Click To Tweet
*eBook available in Kindle Unlimited.
Related Posts