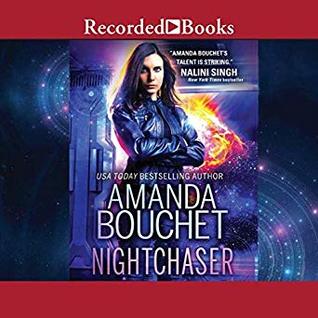 Nightchaser
by Amanda Bouchet
Series: Endeavor #1
Narrator: Susan Bennett
Length: 11 hours and 45 minutes
Genres: Romance, Science Fiction
Source: Publisher
Purchase*: Amazon | Audible *affiliate
Rating:

Heat Level:

Narration: 4 cups Speed: 1.3x

A delicious new heart-pounding romantic adventure from USA Today bestseller Amanda Bouchet!

Captain Tess Bailey and her crew of Robin Hood-like thieves are desperate and on the run. Pursued by a vicious military general who wants them dead or alive, Tess has to decide if she can trust Shade Ganavan, a tall, dark and arrogant stranger with ambiguous motivations.

Shade Ganavan had oodles of arrogance, oodles of charm, and oodles of something that made me want to kick him in the nuts.

What Tess and Shade don't know about each other might get them killed…unless they can set aside their differences and learn to trust each other—while ignoring their off-the-charts chemistry.
Nightchaser is the first novel in the Endeavor science fiction romance series by Amanda Bouchet. I chose to listen to the audio narrated by Susan Bennett. A slow start gave way to an engaging read.
I am not going to lie, this started really slow for me. In fact at one point I almost DNF'd the audiobook. I think it was a combination of a few things. First, I recently listened to Polaris Rising, which was phenomenal and second the story started out disjointed and I couldn't get my footing. I will say the second half of the book was stronger and I ended up slipping in.
The world-building is light, with the author sharing throughout the story but we still have a lot more to learn. We know the people are oppressed and that there is a rebellion. Tess is a member of the ruling house but seeks to help those in need. Think of her as a space Robin Hood.
We meet, Captain Tess Bailey and her crew of damaged, misfit thieves as they escape with stolen cargo from a military superpower whose general (apparently Tess's father) wants the contents returned. There is now a bounty on her head. They escape and end up on a planet in another solar system but their ship is badly damaged.
Tess hires Shade Ganavan to make the repairs and this is where things get complicated. The story that unfolds is heavy on romance with suspenseful threads. Shade and Tess have sizzling chemistry, but both have secrets and don't act right away. Mixed singles followed by explosive heat and these two need to make decisions.
What Tess doesn't know is that Shade is a bounty hunter. He is trying to garnish funds to win back his family's business. Bringing Tess in could restore everything. He struggles with this internally just as Tess struggles to let him into her inner circle of trust. Both threads felt genuine as did their off the chart moments.
I enjoyed all the characters, Shade in particular, but it took me a while to warm up to and understand Tess. Again the struggle was in the first half.
The second half of the book was intense with plenty of action and confrontation with the enemy. We finally get details on this world, Tess's upbringing and what makes Tess different. It could turn the tides and end her father's tyranny.
Susan Bennett did a stellar job with the narration and helped me pull through the first half. I felt she captured Tess and Shade from their chemistry to personalities.
While it was rough travels in the beginning, I ended up enjoying Nightchaser and will certainly pick up the next audio. Fans of space soap operas and romance laden fantasy will enjoy the beginnings of the Endeavor series.
A rough start gave way to an engaging, action-packed, romantic space fantasy in Nightchaser by Amanda Bouchet #iloveaudiobooks #fantasy #ScienceFiction #Endeavor
Click To Tweet
Reading this book contributed to these challenges:
Related Posts