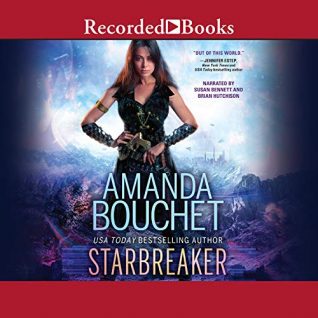 Starbreaker
by Amanda Bouchet
Series: Endeavor #2
Narrator: Susan Bennett
Length: 13 hours and 28 minutes
Genres: Romance, Science Fiction
Source: Publisher
Purchase*: Amazon | Audible *affiliate
Rating:

Heat Level:

Narration: 4.5 cups Speed: 1.3x

Captain Tess Bailey and Shade Ganavan never wanted to be heroes. Now, revolution is in the wind and the universe on the brink of catastrophic war. Tess, Shade, and the remaining crew of the Endeavor are still the galaxy's Most Wanted. With the Dark Watch—and every bounty hunter known to humankind—scouring the known sectors for them, the situation couldn't be more desperate.

The clock is ticking. As their attraction builds and secrets are revealed, Tess and Shade must decide if they trust each other enough to plan their next move together. They could change the course of history…or at least bring hot water to the showers aboard the Endeavor. They'll just have to tackle one crisis at a time.
Starbreaker by Amanda Bouchet is the second audiobook in the Endeavor romantic science fiction series. Once again things started off slow, and it took me a bit to get comfortable but buckle up for suspense, revelations and swoons….
Battles on space stations, visits to unique planets, old nemesis and Daddy dearest await you in Starbreaker.
I love the crew of the Endeavor. After the events of Nightchaser, Captain Tess Bailey, Shade, and the remaining crew (Jaxon Boudreau, Fiona Winterly, and Merrick Maddox) of the Endeavor are still the galaxy's Most Wanted. In fact, the bounty has tripled for some of them.
Together with Bonk, the cat, they take us along on a fast-paced adventure filled with heists, rescues, and break-ins before Tess has to face down family issues and deal with the Overseer.
The romance between Tess and Shade is heated and feels genuine. It is still developing as they work on trust issues. The two work together as a unit and feed off each other's strengths, especially in combat situations. They face some obstacles and self-doubt, but we also witness growth and see their unity become stronger. I rooted for them and wanted to bat any perceived interference out of their way.
The Endeavor is scheduled to deliver vials of blood to Tess's Uncle and accepts a dangerous rescue mission. In between they will execute a heist, spend time at a tropical resort and face people from their pasts. They will even bring some extra crew members on board. Like I said, buckle up…this is one heck of a ride!
Susan Bennett did a stellar job narrating and capturing the voices and emotions of the characters within. She brings their emotions, the conflict and the never ending action to life.
Bouchet shares more of the world's history, Tess's story, and surprises us with revelations that set the world on end. I cannot wait for Dawnmaker: the next installment!
Reading this book contributed to these challenges:
Related Posts