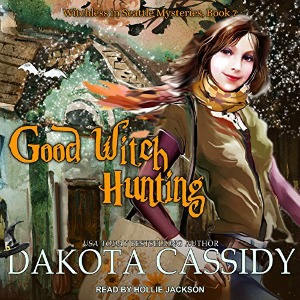 Good Witch Hunting
by Dakota Cassidy
Series: Witchless In Seattle #7
Narrator: Hollie Jackson
Length: 5 hours and 56 minutes
Genres: Cozy Mystery, Paranormal
Source: Publisher
Purchase*: Amazon | Audible *affiliate
Rating:

Narration: 4.5 cups
What happens when an ex-witch/medium, an ex-nun, a demon, and a dead British spy meet?

Murder!!

After a really busy summer, things have settled down for my crew here in Ebenezer Falls. That is until my favorite Spy-Guy, Win has a crazy recollection of the night he was murdered!

His memory leads us to the new tattoo artist in town who just happens to be an ex-nun named Trixie Lavender. Sister Trixie has a gifted tattoo artist for a sidekick who just happens to be a demon straight from the bowels of Hell…

A demon who, coincidentally, is accused of murder, that is!

You know what that means—Stevie and gang to the rescue!
Good Witch Hunting by Dakota Cassidy is the seventh audiobook in the Witchless In Seattle paranormal, cozy-mystery series.  New residents and a snowstorm soon bring trouble to Ebenezer Falls and it's exactly what Stevie needed! Humor, murder and a motley crew of ghosts, familiars and more makes listening to the narrations of Hollie Jackson loads of fun.
A nun, a demon and a ghost walk into a bar…
In Good Witch Hunting a demon is accused of murder and it's a good thing, well at least for Stevie who has been quite bored since she investigated her last case.  This was a fun episode with plenty of twists and good humor. I enjoyed meeting Coop, Trixie, and a familiar named Livingston. Things are complicated by a snowstorm in Ebenezer Falls but that doesn't stop this motley crew.
The story behind Coop and Trixie was a fascinating one and could easily have been its own book. I think from a series perspective this was one of the best books to date. The pacing, humor and storyline quickly pulled me in and I devoured the audiobook. I loved the witty humor, snark and references to old sitcoms.
Hollie Jackson continues her narration and does a stellar job giving each character their own unique voice and captures their personality. Her voice for Belfrey, Stevie's familiar made me insane for a little while. Now I don't know whether she toned the voice down or I've simply accepted it, but Belfrey and I got along just fine this listen.
New residents and a snowstorm soon bring trouble to Ebenezer Falls and it's exactly what Stevie needed! Good Witch Hunting by Dakota Cassidy, narrated by Hollie Jackson #audio #NewRelease
Click To Tweet
Reading this book contributed to these challenges:
Related Posts