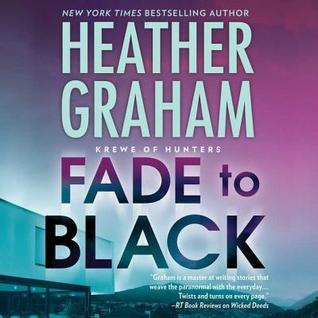 Fade to Black
by Heather Graham
Series: Krewe of Hunters #24
Narrator: Luke Daniels
Length: 8 hours and 23 minutes
Genres: Paranormal Romance
Source: Publisher
Purchase*: Amazon | Audible *affiliate
Rating:

Heat Level:

Narration: 4.5
Where dreams go to die...

Starring in a cult TV show was a blessing for Marnie Davante, especially now that her former fame could support her future dream of starting a children's theater. So she'll work the convention circuit. But then a costar is brazenly murdered in front of her. With a killer who vanishes into thin air with seemingly inhuman skill, and strange events plaguing Marnie, she feels she can't even trust her own senses.

Although his dear departed parents were famous actors, PI Bryan McFadden is about as far from Hollywood as you can get. The former military man is reluctant to get involved in such a bizarre case, but it quickly becomes obvious that Marnie is in grave danger, and he is compelled to help. It's unclear if the killer is an obsessed fan or something more sinister. Could the show's cast be cursed? How can Bryan keep Marnie safe when it becomes apparent there's a force determined to make this her final curtain call?
Fade to Black by Heather Graham is the twenty-fourth Krewe of Hunters novel. Don't let that scare you because each of the books will work as standalone. A murder-mystery will keep you guessing in this paranormal romantic suspense as sexy, PI Bryan McFadden returns to keep an actress safe. Narrated by Luke Daniels, Graham delivered a predictable yet delightful tale.
Like a lot of Robert's trilogies, Heather Graham's writing, in particular, the Krewe of Hunters is formulaic. While each story features a new setting, ghost, and mystery, we also have a recruit, a love interest, and some rich history. All of this makes this series a comfort read for me. I know exactly what I am walking into and can lose myself for a few hours. Kind of like mini-binge of NCIS.
This was my first time listening to a book in this series, but when I saw that Luke Daniels was narrating I jumped for it. He did a fantastic job with the characters and it was fun hearing hints of Oberon and Orla (Iron Druid Chronicles).
Fade to Black begins at Comic-con where Marnie Davante a famous sitcom star, makes an appearance, to help fund her dream of opening a children's theater. Things turn upside down when her co-star is murdered by a man dressed as a comic villain. Meanwhile, PI Bryan McFadden is dealing with his mother's ghost. She wants him to go help, Marine. Apparently, his mom knows something he doesn't. To appease his mom he goes, and it's a good thing too because it looks like someone is targeting Marnie.
Graham serve the romance in these stories as a side dish but feel genuine. Both Marnie and Bryan were great characters. Having grown up in Hollywood, Marnie is a little skeptical of everyone and between seeing the ghost of her friend and the murder she doesn't trust Bryan. The chemistry was there under the snark and it was fun seeing calm, cool and collected McFadden win her over.
Ghosts, Hollywood and sitcom sets kept me engaged as we tried to thwart a killer. Graham provided a few twists and a sweet romance with a touch of heat. Secondary characters from co-workers to local law enforcement helped develop the story and provide suspects. Jackson Crow and his wife arrive to assist Bryan s they continue to court him. Adam, the founder of this special FBI task force,  makes a brief appearance.
I thought the murder mystery was clever although, I felt the story dragged a little in the middle. The ending wrapped up loose threads and gave us closer. Fans of murder mysteries with a touch of paranormal woo-woo will enjoy Fade to Black.
Graham creates mini-series within the overall Krewe of Hunters series, and this is the first of three books that focus on the McFadden brothers. Yes, sexy, capable Bryan has two brothers! Pale as Death releases July 31st and Echoes of Evil, September 18th. Luke Daniels is narrating both, so look for reviews here at Caffeinated.
Heather Graham's latest Krewe of Hunters novel, Fade to Black shares a twisted Hollywood murder mystery. Luke Daniels narrates and as always delivered. #JIAM #loveaudiobooks
Click To Tweet
Reading this book contributed to these challenges:
Related Posts