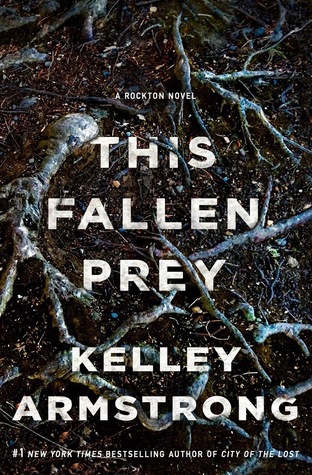 This Fallen Prey
by Kelley Armstrong
Series: Casey Duncan #3
Genres: Suspense Thriller
Source: Publisher
Purchase*: Amazon | Audible *affiliate
Rating:
When Casey Duncan first arrived at Rockton, the off-the-grid, isolated community built as a haven for people running from their pasts, she had no idea what to expect. There are no cell phones, no internet, no mail, and no way of getting in or out without the town council's approval. She certainly didn't expect to become the town homicide detective. But, the very last thing she expected was for the council to drop a dangerous criminal into their midst without a plan to keep him imprisoned. And she never thought that she'd have to be responsible for him.

The longer Oliver Brady stays in town, the more people seem to die around him. When evidence begins piling up that someone inside Rockton is working as his accomplice, Casey races to figure out who exactly Brady is and what crimes he's truly responsible for committing.
This Fallen Prey returns us to the remote town of Rockton, in Kelley Armstrong's gripping Casey Duncan suspense series. Sheriff Eric Dalton and Detective Casey Duncan have their hands full when the Council has them babysitting a serial killer. Twists and non-stop danger had me reading into the wee hours.
While one could technically argue that each book in the Casey Duncan series contains a case/mystery/problem that is resolved I would strongly recommend starting from the beginning. World-building, character relationships and an overall storyline allow for connections, create tension, and well let's face it, Armstrong has created a brilliant and addictive series.
Protecting a small secluded town that depends on the collective resources of its residents is complicated enough, but Sheriff Eric Dalton and Detective Casey Duncan will soon face their biggest threat yet. The council sends a new temporary resident. A charismatic serial killer, whom they are supposed to guard.
Oliver Brady arrived bound and gagged with a recommendation to keep him that way. Brady is soon protesting his innocence with an outlandish story. The arrival of Brady highlights just how closed off from society this remote town is. Having no choice but to adhere to the council's wishes, they place Brady in their small holding cell and begin working on better accommodations. The story that unfolds was intense, with plenty of twists, and non-stop heart-pounding action.
I love that the townsfolk are a relative mystery, even to Eric and Casey as they try to solve events, look for co-conspirators and keep the town safe. It creates an edge in each of the books. You will come to love some and want to keep others in your peripheral vision. We continue to see a strengthening of the relationship between Casy and Eric. While there is a romance, the mysteries, murders, and danger are center stage. The romance and relationships serve to strengthen the stories.
This Fallen Prey was a brilliant installment that not only provided an engaging tale about Oliver Brady but allowed us to spend time in the woods surrounding Rockton. We get up close and personal with the Others, deep in the woods surrounding Rockton. This encounter was downright chilling. Armstrong has a diabolical mind, and I loved every moment of it. We meet a council member, see death and become caught up in a wicked game of cat and mouse.
You'll want to clear your schedule before cracking open This Fallen Prey the newest story in the Casey Duncan series by Kelley Armstrong #mustread #NewRelease
Click To Tweet
Reading this book contributed to these challenges:
Related Posts