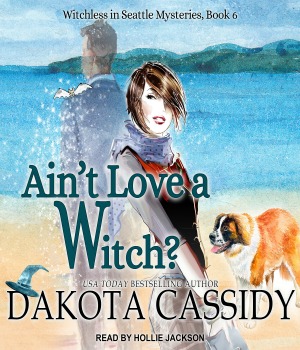 Ain't Love a Witch?
by Dakota Cassidy
Series: Witchless in Seattle #6
Narrator: Hollie Jackson
Length: 5 hours and 17 minutes
Genres: Paranormal, Mystery
Source: Publisher
Purchase*: Amazon | Audible *affiliate
Rating:

Narration: 4 cups
My name is Crispin Alistair Winterbottom, and I'm a British Spy . . . Or I was until my untimely, dare I say, suspicious demise. Now, I'm a ghost, living my afterlife on what I fondly call Plane Limbo. But I'm determined to return to the land of the living and while I try and figure out exactly how to do that, I spend my days with the ever delightful ex-witch, Stevie Cartwright, the only person in the world who can hear me, and her charming bat familiar, Belfry. We've seen some dark days, Stevie and I. Including, an unexpected family member attempting to steal all my worldly goods, a vengeful warlock, and plenty of murder. Yet, through it all, we've become great friends and adopted several new friends (alive and dead) along the way. So when a surprise shows up on our doorstep and claims to belong to me, our safe, happy world is bloody well turned upside down and threatens, to date, the most important relationship in my life!
Ain't Love a Witch? by Dakota Cassidy, is the sixth book in the Witchless in Seattle series narrated by Hollie Jackson. In this installment, the story is told from Crispin Alistair Winterbottom's point of view, and I loved it.  An unexpected package livens things up at this most unusual household.  Reveals and continued teasing concerning the romantic thread kept me listening.
When Arkady, a dead Soviet spy is the voice of reason you cannot help but chuckle. The rest of the novels are told from Stevie's POV, and I must say I enjoyed the heck out of Winterbottom's. We get to spend some time on the plane where Winterbottom and Arkady dwell. It is a place between here and heaven/hell. Stevie is still posing as Madame Zoltar and dealing with her unwitch status.
A knock on the door turns their happy little nest upside down when they discover a bundle, allegedly belonging to Winterbottom. This package requires special care, and Stevie is entirely out of her element.
Twists and danger are around every corner, but we also get time to learn details about Winterbottom from his feelings to the events of his death. The whole gang is present from townsfolk to Strike the Turkey. Um, yes, Stevie has a habit of collecting unusual pets. I loved the balance between the current mystery and character and arc development. We had some surprising moments from Stevie, ones that even surprised the heck out of her.
Cassidy continues to torment us with the romantic thread, but we do get to hear Winterbottom's thoughts on it and Arkady gives some advice. While I am hoping for a happily ever after, it is nice just knowing the feelings are there and enjoying tidbits as they develop.
Hollie Jackson continues to narrate the series and aside from the voice of Belfry, the bat, I love listening to her voices for these characters. In all fairness, I guess a bat would speak in a high-pitched over-excited voice. Thankfully, Belfry has few lines..lol Her accents for Winterbottom and Arkady enhance the tale, and her pacing makes it a great listen.
Ain't Love a Witch? was delightful and this is a fun cozy series. Despite each book containing a mystery, I recommend reading in order. I loved getting Winterbottom's POV and hope that Cassidy continues to switch between them.
Ain't Love a Witch? by Dakota Cassidy gave us Winterbottom's POV and an intriguing case. #audio
Click To Tweet
Related Posts