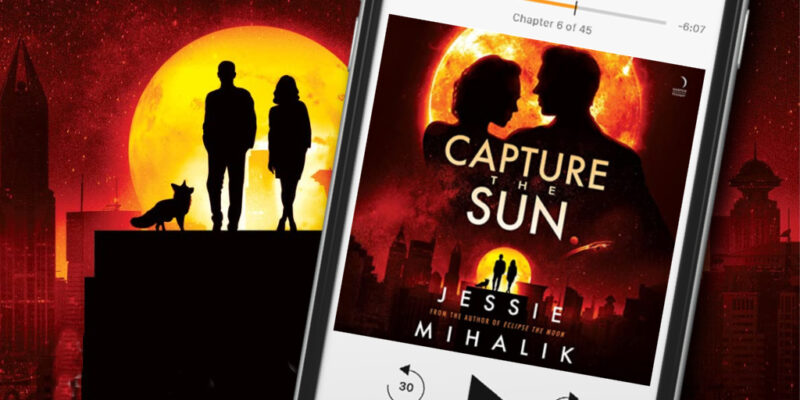 Capture the Sun by Jessie Mihalik is the last book in the Starlight Shadow's trilogy and brings us Lexi & Nilo's story. Along the way there will be delicious heat, rescues, danger and more. Buckle up for takeoff…
Capture the Sun
by Jessie Mihalik
Series: Starlight's Shadow #3
Narrator: Frankie Corzo
Length: 12 hours and 28 minutes
Genres: Space Opera
Source: Purchase
Purchase*: Amazon | Audible *affiliate
Rating:

Heat Level:

Narration: 5 cups Speed: 1.5x

Acclaimed author Jessie Mihalik returns with the thrilling conclusion to her Starlight's Shadow trilogy. An intergalactic thief must join forces with the charming teleporter who stole her last job--and may now be her only hope for saving her former crew.

As a recovery specialist, Lexi Bowen's jobs typically require more trickery and thievery than honest work. Her former captain might not approve of her flexible morals, but stealing artifacts for rich assholes pays the bills, and Lexi's had enough of war and death. The FHP left her to die once; she doesn't plan to give them a chance to finish the job.

Unfortunately, her latest contract takes her to Valovia itself--and right back into the orbit of Nilo Shoren, a Valovian teleporter who already cost her one payday and nearly stole her heart.

Armored against his clever charm, Lexi plans to get in, get the job done, and get out. But when her former crew goes missing in Valovian space, Lexi will have to work with Nilo to figure out what happened--and stop it--before the galaxy's two superpowers can use the disappearance as an excuse to return to war.
Once again Frankie Corzo narrates and brings the characters, their emotions and the story to life. Corzo uses unique voices and sets the tone for the story. I highly recommend listening to the series. While each book features a complete romance, I highly recommend listening in the order of release for the overall story arc, friendships and spoilers.
Lexi is a recovery specialist and aids the crew of the Starlight Shadow. When she isn't working with them, she uses her skills as a thief to recover things. I was excited to get her story.
Her latest gig has her returning to Valovia. Here she has a run-in with Nilo Shoren, a Valovian teleporter who not only stole a profitable gig from her, but almost stole her heart. When her crew goes missing, she'll have to work with Nilo to save them. The tale that unfolds quickly pulled me in from their heated chemistry to the rescue mission.
From the start, it was obvious Nilo had it bad for Lexi, but as wildly attracted as she is to him and as hot as he is in bed, she cocoons her heart and cannot see what it is in front of her. I loved watching their relationship deepen and seeing the trust build. Both vow to protect the other even as Lexi denies the reasons.
The suspense angle was well done, with twists, climatic scenes bringing a fitting end to the series. We get closure for the trilogy as we see villains brought to justice and catch a glimpse at what lies ahead for the crew. It was good to see the crew of Starlight Shadow and I'd love to fly with them again.
Capture the Sun by Jessie Mihalik narrated by Frankie Corzo delivered swoons, heat and plenty of action. #StarlightShadow #SciFi #SpaceOpera #NewRelease
Click To Tweet

Stay Caffeinated!
Never miss a post by adding Caffeinated to your Inbox
Reading this book contributed to these challenges:
Related Posts