Narrated by Lauren Fortgang, James Fouhey, and Max Roll, Only Good Enemies by Jennifer Estep continues the sci-fi romantic fantasy series, Galactic Bonds. Grab an iced mocha and see why I enjoyed this audio.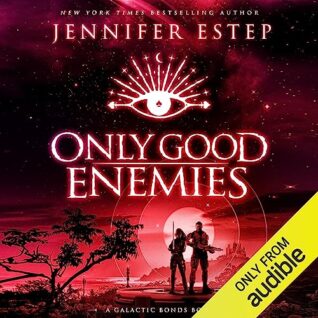 Only Good Enemies
by Jennifer Estep
Series: Galactic Bonds #2
Narrator: Lauren Fortgang, James Fouhey, Max Roll
Length: 14 hours and 12 minutes
Genres: Space Opera
Source: Purchase
Purchase*: Amazon | Audible *affiliate
Rating:

Heat Level:

Narration: 4.5 cups Speed: 1.5x

A WOMAN ON A MISSION . . .

My name is Vesper Quill. I used to be a lowly lab rat, toiling away in obscurity developing brewmakers and other household appliances. But thanks to my seer magic and my own ingenuity, I'm now a Regal lady and the head of a successful corporation.

My mission? To destroy the Techwave, the dangerous group that has stolen my designs and plans to weaponize them against the Imperium. But when my mission takes an unexpected turn, I'm once again surrounded by enemies and fighting for my life.

Further complicating matters is Kyrion Caldaren, an arrogant Regal lord whose fate is bound to mine. Kyrion doesn't realize the two of us still have an unwanted connection that puts us both in grave danger . . . or does he?

A MAN SURROUNDED BY ENEMIES . . .

My name is Kyrion Caldaren. As the leader of the Arrows, the Imperium's elite fighting force, I've been tasked with tracking down and destroying the Techwave before they seize control of the Archipelago Galaxy.

My other mission? Find a way to assassinate Lord Callus Holloway, the Imperium ruler who wants to take my psion power for his own. Holloway is also a threat to Vesper Quill, who haunts my thoughts, despite the broken bond and distance between us.

When I realize Vesper is in danger, my priorities change, and I vow to use all my telepathic, telekinetic, and other abilities to help her. I will save Vesper from her enemies and mine—even if I have to burn down the whole bloody galaxy.
While the author does a lovely job of recapping events from Only Bad Options, I recommend listening in the order of release.
Vesper Quill is now head of the company whose leader sent her off-planet to be killed. She is still hiding her bond with Kyrion Caldaren, the leader of the Arrows. She is hiding the bond for several reasons. 1. She doesn't think Kyrion wants it. 2. Lord Callus Holloway, the Imperium ruler, will hold them captive and drain them of their power, like he did Kyrion's parents.
The world is interesting with royalty and a hierarchy similar to those in historical fiction… only off planet with magic and cool tech. When Vesper is kidnapped by Techwave, Holloway sends Kyrion along with bonded twins to destroy Techwave and kill Vesper. The tale that unfolds kept me listening way past my bedtime.
I adore Vesper, even if she is sometimes too stubborn for her own good. Granted, it has taken Kyrion a beat to realize his feelings for Vesper. I love their interactions and heat and the non-stop action.
While the world is revealed as we go further into the series, I love the set up, from the popstar treatment of Royals to the magic and technology.
Only Good Enemies offered an engaging tale that built, advanced the plot and provided an ending that left me eager for the next audio release. Fans of space opera and science fiction with strong romantic elements will want to grab this series.
The audio was well done and narrated by Lauren Fortgang, James Fouhey, and Max Roll. I felt they captured the voices of these characters and the tone of Estep's story. I highly recommend listening.
Only Good Enemies by Jennifer Estep was another addictive installment in the Galactic Bond series. Narrated by Lauren Fortgang, James Fouhey and Max Roll. You'll want to grab your headphones!
Click To Tweet

Stay Caffeinated!
Never miss a post by adding Caffeinated to your Inbox
Reading this book contributed to these challenges:
Related Posts