Strap in because Hunt the Stars by Jessie Mihalik delivers adventure, suspense, and enemies to lovers' romance. I highly recommend listening to this first in the Starlight Shadow trilogy.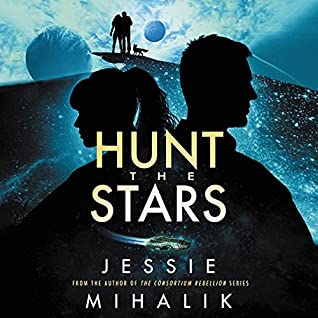 Hunt the Stars
by Jessie Mihalik
Series: Starlight's Shadow #1
Narrator: Frankie Corzo
Length: 12 hours and 2 minutes
Genres: Space Opera
Source: Publisher
Purchase*: Amazon | Audible *affiliate
Rating:

Heat Level:

Narration: 5 cups Speed: 1.3x

The critically acclaimed author of Polaris Rising takes readers on an exciting journey with the start of her brand-new series about a female bounty hunter and the man who is her sworn enemy.

Octavia Zarola would do anything to keep her tiny, close-knit bounty hunting crew together—even if it means accepting a job from Torran Fletcher, a ruthless former general and her sworn enemy. When Torran offers her enough credits to not only keep her crew afloat but also hire someone to fix her ship, Tavi knows that she can't refuse—no matter how much she'd like to.

With so much money on the line, Torran and his crew insist on joining the hunt. Tavi reluctantly agrees because while the handsome, stoic leader pushes all of her buttons—for both anger and desire—she's endured worse, and the massive bonus payment he's promised for a completed job is reason enough to shut up and deal.

But when they uncover a deeper plot that threatens the delicate peace between humans and Valoffs, Tavi suspects that Torran has been using her as the impetus for a new war. With the fate of her crew balanced on a knife's edge, Tavi must decide where her loyalties lie—with the quiet Valoff who's been lying to her, or with the human leaders who left her squad to die on the battlefield. And this time, she's put her heart on the line.
"Jessie Mihalik is an author to watch." — Ilona Andrews, #1 New York Times bestselling author
Like Ilona Andrews, I am enjoying the heck out of Jessie Mihalik's space opera romances. Hunt for the Stars is the first in the Starlight's Shadow trilogy, narrated by Frankie Corzo. I loved it all, from the snark to the action.
After some back-and-forth negotiations and pleas from her own crew, Octavia "Tavi" Zarola, and the rest of the Starlight crew agree to take a job from Torran Fletcher, a Valoff General. The job requires the General and his security detail to accompany them. Something has been stolen from Valovia. It is imperative that the item in question not be revealed outside of this group.
I loved the rich history that Mihalik seamlessly shared with listeners. It felt natural and not like informational dumps. She cleverly wove it through, revealing what Tavi and her crew endured during the war. I loved her motley crew of bounty hunters and how she managed her crew. Her pet was interesting too.
I loved the dynamics of Tavi's and Torran's interaction/relationship. On the surface, they are sworn enemies with war history between them. They are both high-ranking leaders and respect the other's position with a little one up man ship. They have cultural differences and as with any war, only know one side of it. I adored their banter, snark, and the sizzling chemistry that pinged off of them.
The interactions of between the two crews and their unique abilities were fascinating. Because of the time to travel to Valovia, it allowed them to understand the enemy and friendships formed. I loved how workouts and streaming shows helped forge friendships and bridge trust issues.
The suspenseful action and secrets revealed when they arrived in Valovia kept me listening way past my bedtime. Twists, danger and teamwork pushed us to an exciting conclusion as it lay the groundwork for the next installment. Can I just say I am all in?
Frankie Corzo was perfect as the narrator for Hunt the Stars. She nailed Tavi's characters, as well as the others. She captured their personalities, the tension, and the subtle differences in their cultures. Her narration enhanced an already delightful tale.
This new series is perfect for fans of Ilona Andrews and Dianne Duvall.
Narrated by Frankie Corzo, Hunt the Stars by Jessie Mihalik delivered snark, suspense and characters you'll root for. A terrific start to the Starlight's Shadow trilogy. #audiobook #spaceopera
Click To Tweet

Stay Caffeinated!
Never miss a post by adding Caffeinated to your Inbox
Reading this book contributed to these challenges:
Related Posts