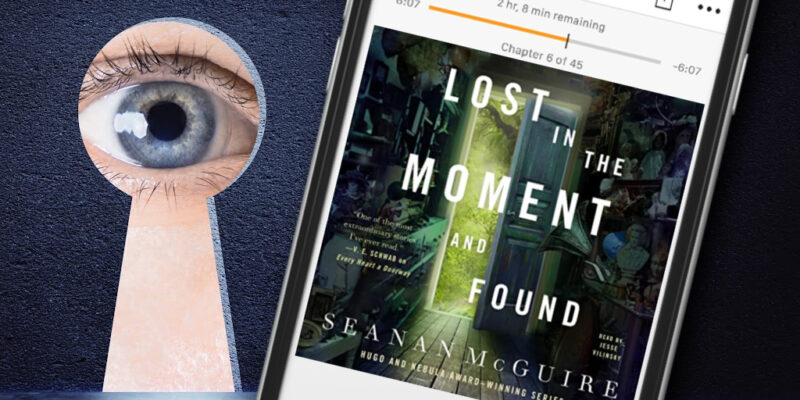 Lost in the Moment and Found by Seanan McGuire is the eighth novella in the Wayward Children series narrated by Jesse Villnsky. I love this series about children & doors and the places they take them. I devoured this in a single sitting and it was my favorite of them all. Antsy walks through a door and I was lost….
Lost in the Moment and Found
by Seanan McGuire
Series: Wayward Children #8
Narrator: Jesse Vilinsky
Length: 4 hours and 53 minutes
Genres: Fantasy
Source: Purchase
Purchase*: Amazon | Audible *affiliate
Rating:

Narration: 5 cups Speed: 1.5x

Winner: 2022 Hugo Award for Best Series

A young girl discovers an infinite variety of worlds in this standalone tale in the Hugo and Nebula Award-wining Wayward Children series from Seanan McGuire, Lost in the Moment and Found.

Welcome to the Shop Where the Lost Things Go.

If you ever lost a sock, you'll find it here.

If you ever wondered about favorite toy from childhood... it's probably sitting on a shelf in the back.

And the headphones that you swore this time you'd keep safe? You guessed it....

Antoinette has lost her father. Metaphorically. He's not in the shop, and she'll never see him again. But when Antsy finds herself lost (literally, this time), she discovers that however many doors open for her, leaving the Shop for good might not be as simple as it sounds.

And stepping through those doors exacts a price.

Lost in the Moment and Found tells us that childhood and innocence, once lost, can never be found.

A Macmillan Audio production from Tor.com.
The author begins with a note of reassurance, and I was very appreciative. Despite it, all those insecure feelings came rushing back, but that is another story. The backstory to six-year-old Antsy packing her things late in the evening to runaway to grandma's house was well done. The door she finds and how she walks through was different, but then so was the place that she arrives in.
She finds herself in a shop for lost and found things. Tupperware lids, missing kittens, and that left sock all can be found here. If you truly desire to find them. People arrive looking for things and return to the place they came from once found. Except for those who stay in the lost and found. They are provided for. But can they leave? It's exciting at first, with doors to travel, needs met, and friends to be made. But it's not a perfect place and staying comes at a cost.
The tale was clever, and we witnessed Ansty change. The tale shows that innocence lost can never be found. I felt for Ansty and experienced several emotions through the course of this story. I kept listening as I was concerned about the eventual outcome. The author left us in a good place and I should have trusted her.
Magic, unique creatures, and magic rooms await you at the shop. While it isn't necessary to read the previous novellas, I recommend reading or listening to all the Wayward Children stories.

Stay Caffeinated!
Never miss a post by adding Caffeinated to your Inbox
Reading this book contributed to these challenges:
Related Posts