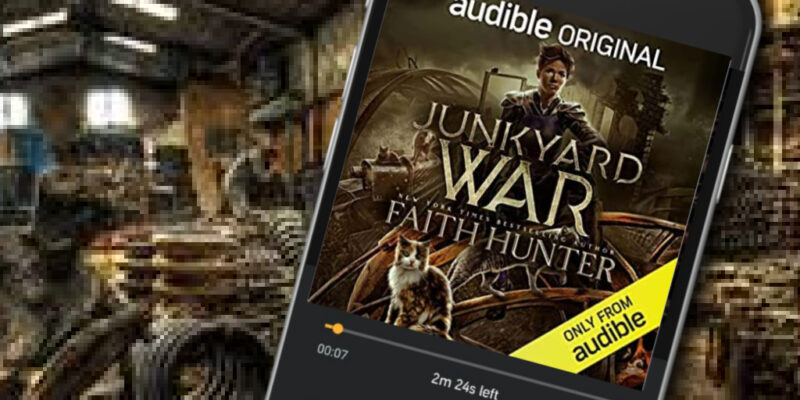 Narrated by Khristine Hvam, Junkyard War by Faith Hunter is the third audiobook in the Junkyard Cats featuring Shining Smith. This post-apocalyptic science fiction series has been a favorite. Shining Smith is seeking retribution, and she's willing to die to get it.
Junkyard War
by Faith Hunter
Series: Junkyard Cats #3
Narrator: Khristine Hvam
Length: 6 hours and 35 minutes
Genres: Post-Apocalyptic, Science Fiction
Source: Audible Plus
Purchase*: Audible *affiliate
Rating:

Speed: 1.5x

It's find retribution or die trying in Shining Smith's ultimate challenge, from the author of the Jane Yellowrock and Soulwood series.

Shining Smith and her crew have obtained the weapons they need to rescue one of their own from the grips of their mortal enemy, Clarisse Warhammer. But to mount an assault on her fortified bunker, they have to cobble together an army of fighters.

That could be the biggest battle of them all.

Shining will need to step back into the biker world she left behind to broker an uneasy peace, then lead rival factions into a certain death trap. Can Shining take Warhammer down without having to compel more and more people to do her bidding? And will her feline warriors, the junkyard cats, remain loyal and fight alongside her? Or will Shining have to become something and someone she hates, so that vengeance can finally be hers?
We are back with Shining and her motley crew as they prepare to mount a rescue and take down their enemy, Clarisse Warhammer. To do this, she'll need weapons, cats, and bikers from her dad's past.
The story was intense from the get go. I quickly slipped into the story. I loved the setting, Nanos, and the cats. Her motley crew of friends and allies added to the tale with humor, suspense, and romance. Shining is one tough cookie and she'll have to use her wits to keep her team alive and work with the biker gangs.
The world is post-apocalyptic and while there is a government of whom, Shining wants to draw zero attention, supplies are limited and it's very much a fend for yourself, be or be killed kind of world.
The epic showdown was perfectly executed and kept me listening. Hunter took her time, weaved in humor, changed the dynamics between teams and kept me on edge.
The story arc wrapped up well with a curious turn of events. I loved the snark, romantic moments and banter. I am hoping we get more of the Junkyard Cats world and time with Shining.
Khristine Hvam captures Shining's personality and the tone of the story. She brought the characters to life and made listening pleasurable.

Stay Caffeinated!
Never miss a post by adding Caffeinated to your Inbox
Reading this book contributed to these challenges:
Related Posts