I love the grumpy/sunshine trope and grabbed How the Grump Saved Christmas by Claire Kingsley through Kindle Unlimited. A holiday second chance romance on a Christmas tree farm with reindeers and donkeys? Yes, please. Grab some hot cocoa and see why I recommend it.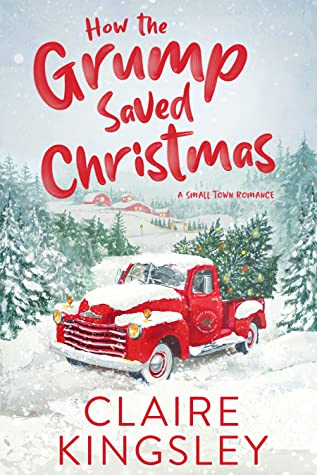 How the Grump Saved Christmas
by Claire Kingsley
Genres: Contemporary Romance
Source: Kindle Unlimited
Purchase*: Amazon | Audible *affiliate
Rating:

Heat Level:
Hardworking Isabelle Cook has a serious problem. Her family farm, site of Tilikum's Christmas Village, is in trouble. Big trouble. And worst of all? The man trying to buy it is none other than the grumpiest, grinchiest man of them all—Elias Stoneheart.

That's a big nope. She's not letting him get involved. Not with his heart made of coal.

Elias Stoneheart is in the business of making money, not friends. Especially when his boss is promising a long-awaited promotion. All he has to do is convince one struggling family to sell their farm.

The problem? It's Cook Family Farm. And Isabelle Cook is his ex.

He might have history with Isabelle, but this is just business. A Christmas-loving farm girl is not going to come between him and his ambition.

And Christmas? He hates it. Christmas Village needs to go.

But as Elias spends time in the small town, holiday spirit—and Isabelle—get under his skin. And she might be the only one who can melt the ice around his heart.

Author's Note: a sassy farm girl takes on a grumpy businessman in this stand-alone, snowy, small-town Christmas romance. Saucy banter, a guard donkey, plenty of holiday cheer, and a heartwarming happily ever after that will make you believe in the magic of Christmas.
Isabelle Cook has a lot to worry about this season. Her family farm, site of Tilikum's Christmas Village, is in trouble. Unbeknownst to her, her dad took out a loan to help carry them through, but the truth is the farm has been seeing red. When a company comes nosing around to buy the farm, Isabelle is determined to keep the farm and save the Christmas Village.
Meanwhile Scrooge, I mean Elias Stoneheart, a cold business executive, is determined to move up the corporate ladder. Buying the farm from his old teenage girlfriend and her family shouldn't be too hard. After all, the numbers make sense.
I love the grumpy sunshine troupe, and Kingsley delivered a sweet tale with an important message. Isabelle is lovely. She is also hurt and confused by how things ended with Elias. Her parents, the farm, the reindeer and an ornery donkey will make you smile. Secondary characters from villagers to squirrels will pull you in and have you rooting to save the farm.
Elias Stoneheart, with his grumpy I hate Christmas, all business attitude will melt the most frosty of hearts. Underneath that grump is a sweet man who needs to be loved. I loved watching him figure things out with help from the squirrels.
The romance is a second chance, with a touching backstory. I loved their chemistry and back-and-forth banter. If you are looking for an uplifting, fun romance with a dash of behind the door heat, How the Grump Saved Christmas is the perfect holiday treat.

Stay Caffeinated!
Never miss a post by adding Caffeinated to your Inbox
Related Posts