Gray Witch is the fifth audiobook in the Black Hat Bureau urban fantasy series by Hailey Edwards. Narrated by Stephanie Richardson, Hailey advances the overall arc as Rue and her motley crew track down famous monsters across Mississippi. You'll enjoy a suspenseful tale, snark, humor and romance along the way…..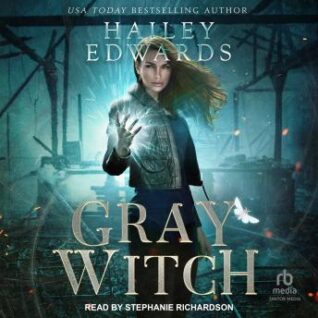 Gray Witch
by Hailey Edwards
Series: Black Hat Bureau #5
Narrator: Stephanie Richardson
Length: 8 hours and 49 minutes
Genres: Urban Fantasy
Source: Publisher
Purchase*: Amazon | Audible *affiliate
Rating:

Narration: 5 cups Speed: 1.35x

Famous monsters are resurrecting across Mississippi, each one recreating their own gruesome deaths through new victims. Every time Rue pins down one horror legend, another appears with its own bloodthirsty agenda. The summoners raising these vengeful spirits save their best for last, a cruel gift that shatters Rue. But she's not the only one whose heart gets broken.

Once her father realizes what the summoners have done, who they've awakened, there is nowhere they can hide where he can't find them. After this final betrayal, there are no limits on how far he's willing to go to bring down Black Hat, the director, and anyone else who gets in his way.

Including his own daughter.
I am having a blast with these characters. The tale has a cozy mystery vibe to it with characters you'll adore from Rue Hollis, who has been wronged, to Asa, her mate. Like most urban fantasy series, ti is best to listen in the order of their release. The overall story arc, bonds and character growth will be hindered if you dive in.
Rue attends the demon challenge where other demons fight Asa for his position as heir. While there she gains the attentions of Asa's father. I am not a fan of the high king. Not that Rue's family is any better. They come with their own backstabbing, power grabbing set of problems.
The mystery was a good one. The deputy director calls them when the ghosts of dead demon hunters appear. This leads to more chaos as killers and famous monsters rise from the dead. It held me captive and kept me guessing as Rue and the team dug in for answers. We got to see Colby shine.
We see growth and get to witness this team come together. Each brings something to the table. Now that Rue has embraced Asa as her mate, the romance isn't as distracting, making room to shine some light on Clay and Colby's abilities.
The overall arc advanced and we see Rue come into her own, facing her foes. Despite the outcome and where things are headed, we get a sense she is ready. Thanks in part to her new family. I am hoping she loosens up regarding Colby and her fears. That girl has spunk and is so clever.
Fans of character driven urban fantasy with snark and suspenseful mysteries will enjoy the Black Hat Bureau series. I am looking forward to the next audiobook.
Stephanie Richardson narrates and does a wonderful job of bringing voice to Rue. Her tone and pacing enhances the overall tale. She has created unique voices for each of the characters picking up on their personalities, snark and humor.
*available in KindleUnlimited
Gray Witch by Hailey Edwards. Narrated Stephanie Richardson delivered suspense, snark and romance in the latest Black Hat Bureau audiobook. #audiobookreview #NewRelease #UrbanFantasy
Click To Tweet

Stay Caffeinated!
Never miss a post by adding Caffeinated to your Inbox
Reading this book contributed to these challenges:
Related Posts