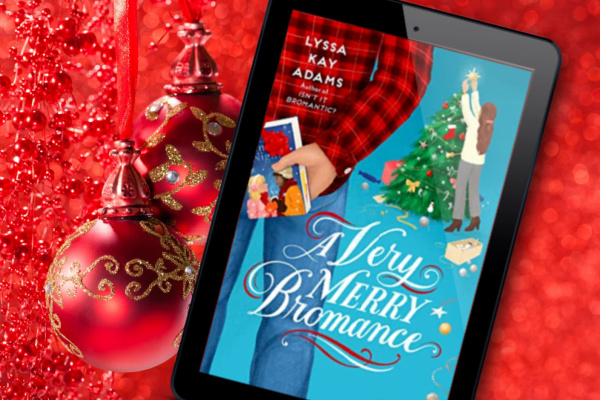 I am loving the Bromance Book Club series and was delighted to curl up by the fire with A Very Merry Bromance by Lyssa Kay Adams, the fifth novel in the series. A scrooge heroine and sunshine hero delivered a swoon worthy holiday tale with friends and family.
A Very Merry Bromance
by Lyssa Kay Adams
Series: Bromance Book Club #5
Genres: Contemporary Romance
Source: Publisher
Purchase*: Amazon | Audible *affiliate
Rating:

Heat Level:
'Tis the season for a Bromance Book Club matchmaking mission! This time, they're pulling out the mistletoe for everyone's favorite country music star, Colton, and his second chance at love.

Country music's golden boy Colton Wheeler felt the most perfect harmony when he was with Gretchen Winthrop. But for her, it was a love him and leave him situation. A year later, Colton is struggling to push his music forward in a new direction. If it weren't about to be the most magical time of year and the support of the Bromance Book Club, he'd be wallowing in self-pity.

It's hard for immigration attorney Gretchen not to feel a little Scrooge-ish about the excess of Christmas when her clients are scrambling to afford their rent. So when her estranged, wealthy family reaches out with an offer that will allow her to better serve the community, she's unable to say no. She just needs to convince Colton to be the new face of her family's whiskey brand. No big deal…

Colton agrees to consider Gretchen's offer in exchange for three dates before Christmas. With the help of the Bromance Book Club, Colton throws himself into the task of proving to her there's a spark between them. But Gretchen and Colton will both need to overcome the ghosts of Christmas past to build a future together.
Country music star Colton Wheeler and Gretchen Winthrop had a one-night stand at a wedding. It was magic, and Colton wanted more, but Gretchen didn't look back. Colton's career is in a funk, and he hasn't been interested in anyone since that wedding night. When the two meet years later, the fates may finally have aligned, or at least Colton hopes for a second chance.
Gretchen's family wants him to sign a deal endorsing their product, and Gretchen's been tasked to pitch it to him. He agrees if she goes on a few dates with him. Can he woo her and show her the magic of Christmas?
The tale that unfolds was delightful but also tugged at my heartstrings as the author gave us Gretchen's story. Colton is wonderful, sweet, grounded and all about family. His love for Christmas and efforts to show Gretchen the magic of Christmas held me enthralled.
Of course, the Bromance Book Club, romance books, and their wives all stepped up to help. I loved getting updates and seeing them share moments together around the holidays. They stick up for one another, offer sound advice and go to bat for you. I laughed, cried, and read way past my bedtime.
We see the cheese man, and I am hoping we get his story. I loved the focus on family, trust and holiday traditions. Adams also reminded up to count our blessings and that just because a cake looks gorgeous with layers of icing and decorations doesn't mean it tastes good.
While this works as a standalone, I highly encourage you to read this series in the order of their release. I have loved them all, and this motley book club gave me plenty of laughs and swoons.
A Very Merry Bromance by Lyssa Kay Adams delivered a wonderful standalone holiday romance with swoons, laughter, and romance books. #NewRelease #holidayromance #bookreview #BromanceBookClub
Click To Tweet

Stay Caffeinated!
Never miss a post by adding Caffeinated to your Inbox
Related Posts