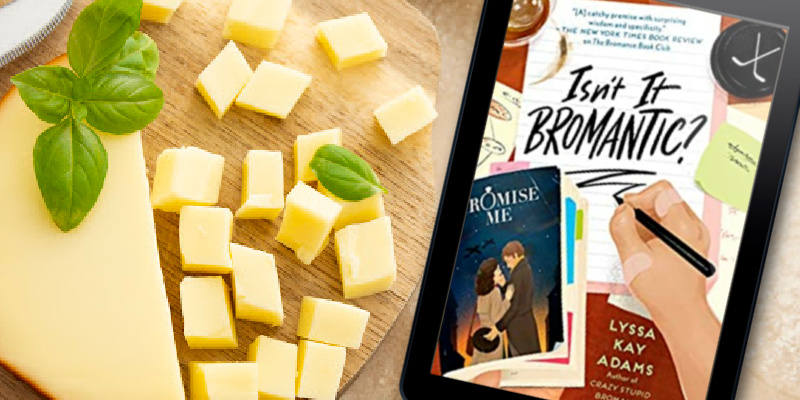 I have absolutely loved the Bromance Book Club series, featuring a group of male friends who secretly have a book club where they read romance novels and help each other with each other's romantic relationships. Throughout the series, the Russian (Vlad) has helped his friends, and made us laugh with his love of cheese and tummy troubles. I wasn't sure Adams could make me swoon for the big lug, but she did.….
Isn't It Bromantic?
by Lyssa Kay Adams
Series: Bromance Book Club #4
Genres: Contemporary Romance
Source: Publisher
Purchase*: Amazon *affiliate
Rating:

Heat Level:
With his passion for romance novels, it was only a matter of time before Vlad wrote one.

Elena Konnikova has lived her entire adult life in the shadows. As the daughter of a Russian journalist who mysteriously disappeared, she escaped danger the only way she knew how: She married her childhood friend, Vladimir, and moved to the United States, where he is a professional hockey player in Nashville.

Vlad, aka the Russian, thought he could be content with his marriage of convenience. But it's become too difficult to continue in a one-sided relationship. He joined the Bromance Book Club to learn how to make his wife love him, but all he's learned is that he deserves more. He's ready to create his own sweeping romance—both on and off the page.

The bros are unwilling to let Vlad forgo true love—and this time they're not operating solo. They join forces with Vlad's neighbors, a group of meddling widows who call themselves the Loners. But just when things finally look promising, Elena's past life intrudes and their happily ever after is cast into doubt.
While each book has its own romance, I do recommend reading the Bromance Book Club series in the order of their release. The end of Crazy Stupid Bromance sets us up for Isn't It Bromantic as we learn the truth about Vlad's marriage.
First, Adams clears up Vlad's stomach issues and it all makes sense. The man still loves his cheese, and that thread offered some good laughs, and took us to an underground cheese club…lol
Elena Konnikova grew up with Vlad. Elena and Vlad were childhood friends. We learn about their life in Russia, how they came to be married and more. I loved the set up even if I felt sorry for Vlad. All the food talk has me wanting to try Russian dishes and cheeses.
Vlad is a sweetie who loves animals, particularly cats and one chicken (LOL). He has befriended his neighbors and belongs to another club we learn about. I do hope Adams has plans for a spin-off series for the club as I am all in. The curmudgeon Claude had me swiping tears from my eyes as I laughed at her. The humor wasn't over the top and had me grinning as I rooted for a happily ever-after.
Elena was loveable, and her story pulled me in. The drama was kept low by some suspenseful events and the story wrapped up, leaving me smiling.
Adams created loveable, genuine characters. I loved how their friends intervened and aided in their romance. Each book is full of laughter but also touches on some serious issues.
Fans of friendships, book clubs, romantic comedies and foodie books will want to devour Isn't It Bromantic, and the entire Bromance Book Club series.
Isn't It Bromantic? by Lyssa Kay Adams brings Vlad's story with humor, heart-warming moments and a dash of suspense. #BromanceBookClub #NewRelease #MustReadRomance #booklovers #bookclub
Click To Tweet

Stay Caffeinated!
Never miss a post by adding Caffeinated to your Inbox
Related Posts