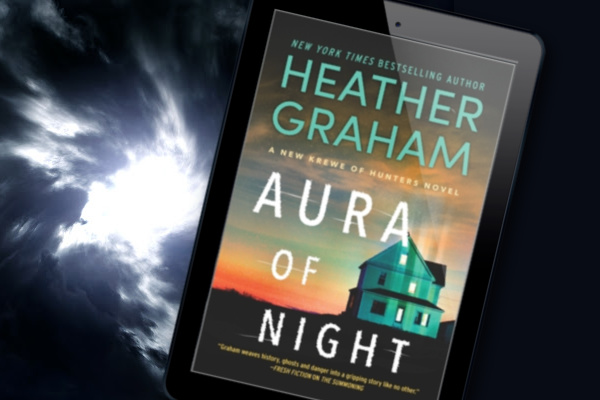 Aura of Night by Heather Graham continues the Embracer mystery within the Krewe of Hunter series. This time we spend time with Krewe Agent Ragnar Johnson and book editor Megan Law, who is writing a book about her experience with the Embracer. Suspense, paranormal elements and wicked chemistry await you….
Aura of Night
by Heather Graham
Series: Krewe of Hunters #37
Genres: Paranormal, Romantic Suspense
Source: Publisher
Purchase*: Amazon | Audible *affiliate
Rating:

Heat Level:
True evil never dies. It only waits in the dark.

All book editor Megan Law wants is to bury the memory of her brutal kidnapping and move on with her life. So when her publisher asks her to spin her hellish experience into the next bestseller, Megan agrees only because it might help keep other women safe. Then a mysterious, gruesome package arrives in the mail—a reminder that the nightmare isn't over just yet.

FBI investigator Ragnar Johnson is running out of time. He knows in his gut there's more to the recent Embracer killings, and he needs Megan's help. Even with their rocky past behind them, working together now isn't going to be easy. But when things take a deadly turn, Megan and Ragnar discover a deep connection that they'll have to use, because something is trying to tear them apart…forever.
While his partner is away on his honeymoon, FBI Agent Ragnar Johnson is continuing to interview the suspects in the Embracer case. During an interview with one of them, he realizes that former victim Megan Law is in trouble. The tale that unfolds delivers suspense and sparks as the two share a safe house and Megan uses her gift with words to listen to the suspects.
When a package containing a grizzly discovery arrives at Megan's NY office addressed to her, she agrees to accompany Ragnar back to DC. These two have chemistry but also bump heads until they work together. Megan brings her dog and the two of them work to crack the case.
The case has many layers, twists and turns. I am loving the paranormal elements of the Law siblings' gifts. When Patrick Law, a criminal psychologist, learns his sister Megan is in trouble, he heads to DC. The conversations between Patrick and Ragnar cracked me up, as did Megan's reactions.
Danger is never far behind, and Graham delivered some intense scenes that kept me reading into the wee hours. These books are familiar, like a warm blanket and perfect for snuggling up with. They pull you in and keep you engaged.
This mini-series within the Krewe of Hunters series featuring the Law siblings and the overall story arc of the Embracer has been a good one, and I cannot wait for the next book, Voice of Fear, featuring Patrick Law.
Aura of Night by Heather Graham brings more of the Law siblings and an intense hunt for the Embracer. #KreweOfHunters #bookreview #NewRelease #murdermystery #paranormalsuspense
Click To Tweet

Stay Caffeinated!
Never miss a post by adding Caffeinated to your Inbox
Related Posts