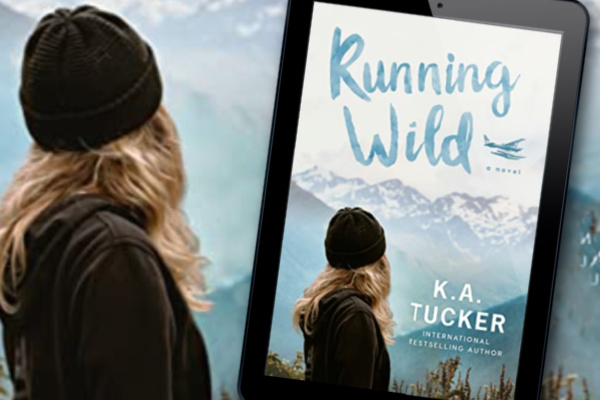 Set against the backdrop of Alaska, I've been loving the Simple Wild series by K. A. Tucker and Running Wild shares Marie Lehr's story. The tale delivered a slow-burning romance with plenty of roadblocks before it curls your toes.
Running Wild
by K.A. Tucker
Series: Wild #3
Genres: Contemporary Romance
Source: Purchase
Purchase*: Amazon *affiliate
Rating:

Heat Level:

From the internationally bestselling author of The Simple Wild comes the story of a woman at a crossroads in her life, struggling between the safe route and the one that will only lead to more heartbreak.

Veterinarian Marie Lehr knows unrequited love all too well after pining for her best friend, only to watch him marry another woman. It's a mistake she will never make again, especially not when she can practically hear the clock ticking on her childbearing years.

The trouble is, she can't seem to find anyone who appeals to her even a fraction as much as that burly bush pilot did. Competitive musher Tyler Brady certainly doesn't, especially not after the heated altercation with the handsome but arrogant, spiteful man.

Or so she thinks.

While volunteering at the Iditarod Sled Dog Race, Marie discovers that first impressions may have been false, and her attraction to Tyler is very real. But his heart belongs to someone else, leaving him with nothing to offer but friendship. Marie's been down this road before and knows how that ends. Yet, no matter how hard she works to keep from falling for Tyler, it seems she's doomed to follow her own trail once again.
Coffee Dates With Running Wild
While the previous three books all shared the romance between Jonah and Calla, we watched Marie in the background as she realized she had feeling for her best friend Jonah and then helped him catch the girl. Needless to say, I was delighted to get Marie's story and Tucker helped readers warm up to her.
First Date: The first meet between competitive musher Tyler Brady and Veterinarian Marie Lehr wasn't under the best of circumstances but when a dog is neglected, Marie doesn't care how handsome you are. No worries, Tyler treats his animals well. I loved getting to know Marie and seeing her life at the clinic. Her office manager is a hoot and I hope you end up loving her as much as I did.
Second Date: This was a slow burning romance. I loved the banter and their encounters during the Iditarod Sled Race. We learn how Tyler came to race and his story will tug at your heartstrings. As for Marie, she wants it all, her career, a man of her own and to start a family. I loved time spent with her family and, of course, moments with beloved characters from the series.
Third Date: A few bumps, two steps back and acceptance make way for a deeper relationship. I enjoyed the buildup, the realizations and the smoking hot kisses. Secondary characters, and news about Jonah and Calla, added to the tale. Despite the romance, the series has a women's fiction feel to it and is one of my favorites. Our date left me grinning from ear to ear with the hopes that Tucker finds more stories in this idyllic wilderness.
While you could technically read this as a standalone, I strongly encourage you to read the series in the order of its release. This contains spoilers for the previous books and you're just gonna go back and read them, anyway.
Running Wild by K.A. Tucker brings us veterinarian Marie Lehr's story. You'll experience the Iditarod Sled Races, and meet sexy, brooding musher Tyler Brady. #womensfictionromance #SimpleWild #bookreview
Click To Tweet

Stay Caffeinated!
Never miss a post by adding Caffeinated to your Inbox
Related Posts