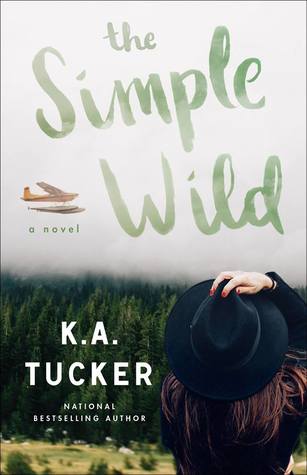 The Simple Wild
by K.A. Tucker
Genres: Contemporary Romance
Source: Publisher
Purchase*: Amazon | Audible *affiliate
Rating:
City girl Calla Fletcher attempts to reconnect with her estranged father, and unwittingly finds herself torn between her desire to return to the bustle of Toronto and a budding relationship with a rugged Alaskan pilot in this masterful new romance from acclaimed author K.A. Tucker.

Calla Fletcher was two when her mother took her and fled the Alaskan wild, unable to handle the isolation of the extreme, rural lifestyle, leaving behind Calla's father, Wren Fletcher, in the process. Calla never looked back, and at twenty-six, a busy life in Toronto is all she knows. But when her father reaches out to inform her that his days are numbered, Calla knows that it's time to make the long trip back to the remote frontier town where she was born.

She braves the roaming wildlife, the odd daylight hours, the exorbitant prices, and even the occasional—dear God—outhouse, all for the chance to connect with her father: a man who, despite his many faults, she can't help but care for. While she struggles to adjust to this new subarctic environment, Jonah—the quiet, brooding, and proud Alaskan pilot who keeps her father's charter plane company operational—can't imagine calling anywhere else home. And he's clearly waiting with one hand on the throttle to fly this city girl back to where she belongs, convinced that she's too pampered to handle the wild.

Jonah is probably right, but Calla is determined to prove him wrong. As time passes, she unexpectedly finds herself forming a bond with the burly pilot. As his undercurrent of disapproval dwindles, it's replaced by friendship—or perhaps something deeper? But Calla is not in Alaska to stay and Jonah will never leave. It would be foolish of her to kindle a romance, to take the same path her parents tried—and failed at—years ago.

It's a simple truth that turns out to be not so simple after all.
I've been a fan of Tucker since her Ten Tiny Breaths series.  I absolutely love the directions her writing has taken. The Simple Wild is a standalone adult contemporary with a cute, "enemies to lovers" romance.  It also shares an emotional father-daughter story.  All delivered with a breathtaking view of Alaska. I laughed, swooned and cried as I fell for these characters and landscape.
The story opens with a prologue and shares the story of Calla Fletcher's parents who split when Calla was just two years old. Her Mom moved them back to Toronto, and Wren, her father stayed in Alaska. Calla, is twenty-six and still lives with her Mom and her stepfather.  On the same day she receives a pink slip from the bank, she learns her estranged father has cancer.
City girl meets sky cowboy. Gads, I loved the snarky haters vibe Calla and Jonah, a pilot for her father's charter plane company have and it begins when he picks her up in Anchorage. While Calla and her gruff Dad get off to an awkward start, Calla and Jonah trade barbs and make assumptions about each other. Tucker does a great job of showing the vast difference between city life in Toronto and the fictional town of Bangor, Alaska. A flat area of Alaska surrounded by mountains.
Admittedly Calla and Jonah weren't the fuzziest of characters, especially Calla in the beginning. In fact, I kind of thought she was a spoiled, entitled brat, but those assumptions changed early in as they interact with each other and those in the community. I laughed aloud at the nicknames these two called each other. Some were barbs thrown at each other and others like Viking Hottie were one's Calla shared with her friend back home. I loved how this was a slow-burning romance that moved from haters to lovers as the two spent time together. It felt authentic, and yet you knew Calla was eventually going home.
Neighbors, the crew at the Wild Charter Company and some critters added to the tale. We gained a sense of community as we got to know Wren's makeshift family.
The Alaskan landscape was a character all on its own. Beautiful and deadly. Tucker delicately balanced the beauty of Alaska, against the harsh realities of this lush, sometimes brutal landscape
Tucker took me through an array of emotions and hooked me.   I lost track of time and devoured their story. I laughed, swooned and lordy did I cry before she wrapped it up leaving me in a good, hopeful place. The Simple Wild was a fantastic, memorable romance that is sure to make my list of top ten novels for 2018.
[bctt tweet="The Simple Wild by K.A. Tucker delivered a touching, snarky, romantic, heartwarming and memorable tale. #NewRelease #mustread" username="kimbacaffeinate"]
Reading this book contributed to these challenges:
Related Posts