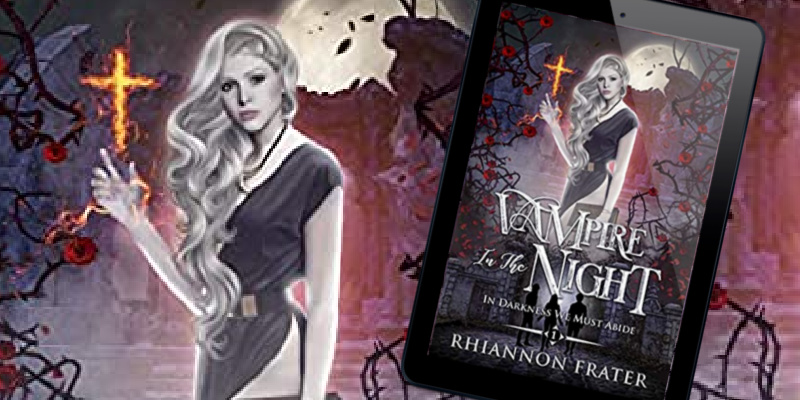 Vampire in the Night by Rhiannon Frater is the first in a three novel collection. I host the Fraterfest readathon each year and try to read at least one of this author's works. It was utterly addictive and left me craving more.
Vampire In The Night
by Rhiannon Frater
Series: In Darkness We Must Abide #1
Genres: Paranormal
Source: Purchase
Purchase*: Amazon | Audible *affiliate
Rating:
There is a Vampire in the Night...
... ready to destroy the lives of Vanora Socoli and her older siblings. His ancient hunger and great evil will forever change their lives.
There is a Vampire in the Night...
...waiting to fulfill an ancient prophecy and conquer the world. But first, he must wait for the right moment to finally reveal himself to the young woman he believes is his right to claim: Vanora.

There is a Vampire in the Night...
...who captures Vanora's eye and her heart. Yet, can she trust him? For her enemy has enveloped her in a web of deceit, casting doubt on all she believes to be true.
Original released as an episodic serial, this book contains season one episodes 1-5. In Darkness We Must Abide is a three-book series. It doesn't read like a serial (all the endless recap is absent), instead the story is fast-paced and addictive. The first book ends with enough of a hook to have me picking up the next book.
The story begins in the present before swooping us back to events that took place ten years ago in Houston, Texas, where 32-year-old Roman Socoli lives with his sisters. His half-sister Alisha is twenty-two, and together they are raising their orphaned half-sibling Vanora, who has albinism. Roman unwittingly opens the door to evil when he has his ancestors from Romania entombed on their property.
I enjoyed the pacing of the book and was quickly pulled in from the suspenseful horror to how they dealt with the fallout. Frater knows how to hook her readers and I imagine the wait between episodes when it was released in serial form was unnerving.
I loved the characters. Roman, the head of the family, tries to protect them all and does so. His doctrine quickly influences others. Alisha and Vanora both have their mother's Celtic gift. Alisha's emerges in her paintings and Vanora in her dreams. Armando is the mysterious stranger who befriends them, but brings danger with him.
The series thread is addictive from the secrets to the dreams. This first collection shares the past and takes us up to the present. The build up was fantastic and the ending will have you downloading the second collection for answers.
Fans of dark, gritty, and addictive vampire horror stories will want to begin these if they haven't already devoured them. Did you read them?
In Darkness We Must Abide

Stay Caffeinated!
Never miss a post by adding Caffeinated to your Inbox
Related Posts