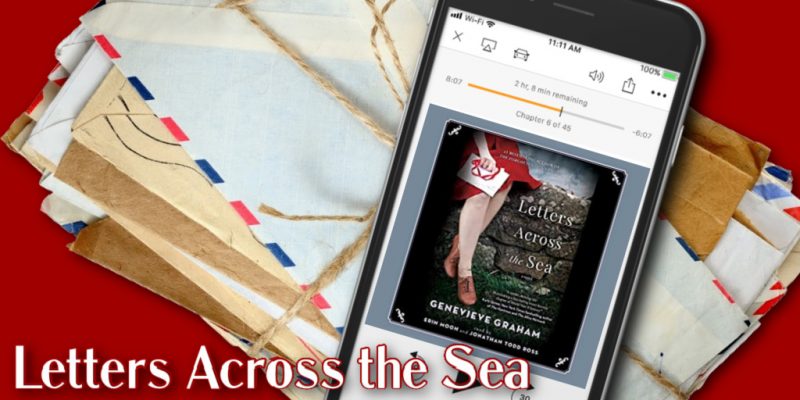 Every time I listen to a novel by Genevieve Graham I not only meet endearing characters but I learn more about the history of Canada and its role during significant moments in our world history. In Letters Across the Sea, we learn about Canada's depression and their roles during WWII. Come see why I fell in love with this story…
Letters Across the Sea
by Genevieve Graham
Narrator: Erin Moon, Jonathan Todd Ross
Genres: Historical Fiction
Source: Publisher
Purchase*: Amazon | Audible *affiliate
Rating:

Narration: 5 cups Speed: 1.3x


Inspired by a little-known chapter of World War II history, a young Protestant girl and her Jewish neighbor are caught up in the terrible wave of hate sweeping the globe on the eve of war in this powerful love story from the #1 best-selling author of 'The Forgotten Home Child'.

I'm writing to say goodbye…
With all my love,
M

Summer 1933

At 18-years-old, Molly Ryan feels as though she is always looking for work to help her family through the Great Depression crippling her city. The one bright spot in her life is playing baseball with her best friend, Hannah Dreyfus, and sneaking glances at Hannah's handsome older brother, Max. Molly knows that her Irish Protestant parents disapprove of her spending so much time with their Jewish neighbors, and she also sees the signs that say "No Jews Allowed" outside Toronto's stores and parks. But unlike many of the city's residents, Molly doesn't blame Hannah and Max for the mass unemployment and unrest - they're her beloved childhood friends.

As more of Hitler's hateful ideas cross the sea, tensions between the two families and their communities rise, spilling over one smoldering day in August when a local "Swastika Club" unfurls a huge white banner bearing the Nazi symbol at a baseball game. A riot erupts, throwing Molly and Max together and sparking a secret they must keep from everyone they love.

When Max enlists to fight overseas, their love is put to the ultimate test, the letters between them a tenuous bond. By war's end, both of their families will be scarred by painful betrayal as devastating truths come to light.
Narrated by Erin Moon and Jonathan Todd Ross, this sweeping tale of life in Toronto during the Great Depression will stay with you long after their story is told. We learn about the lives of a local Irish Protestant family and of their best friends across the street, a local Jewish family. Times are hard, the world is at war, and with the depression, Hitler's antisemitism speeches and propaganda are seeping into the Canadian shores. Stores are putting up no jews allowed signs, and protests are popping up around the town.
Molly and Hannah are best friends and do everything together. Molly has a crush on Hannah's older brother Max, but Jews and Protestants aren't permitted to marry. Times are hard for Molly's family. Her Dad is a local police officer but she and her siblings have dropped out of school to work. When Hannah loses her job at the local grocery store, she quickly sees how harsh the antisemitism has become. Still, she and her friends are uneffected until a riot erupts at a baseball game and splits the families apart. When Canada goes to war, Toronto focuses on their boys and the headlines. Holly misses Max, but it looks like the events at the baseball park forever changed things, but for now she focuses on her family and writing career.
The story that unfolds shares point of views from Molly and Max. We learn of the war, the effect it has on their families and them as individuals. Rich in history and tidbits I did not know, I found myself completely caught up in their lives, their emotions and the times.
There is a romance, a forbidden one, but it's far from a typical romance story. It will tug at your heartstrings, make you angry, make you laugh, and have you swiping tears from your eyes. All of this while you hope for the impossible. As you hope for a miracle, you witness life in Toronto as Molly makes strides in her writing career, deals with losses, and makes a life for herself during these troublesome times.
We travel with Max and see the devastation of war and learn about events that unfolded. So much of the history, real or fiction, I read surrounding WWII tells the stories of Americans or Britains, so this was refreshing and intriguing. Once again, Graham had me seeking more information and her note at the end of the book delivered a wealth of information.
I fell in love with Molly and Max. I hope you do as well. Graham never disappoints and the audio from Simon and Schuster was exceptional. Erin Moon and Jonathan Todd Ross did a stellar job bringing Molly and Max to life. I felt their emotions as they captured the characters' personalities. From their tone to pacing, the two worked well together and elevated the story to a whole new level.
? Letters Across the Sea by Genevieve Graham is a wonderful war-time story whose characters will stay with you long after their story is told. #audiobook #mustlisten #hstoricalfiction
Click To Tweet

Stay Caffeinated!
Never miss a post by adding Caffeinated to your Inbox
Reading this book contributed to these challenges:
Related Posts