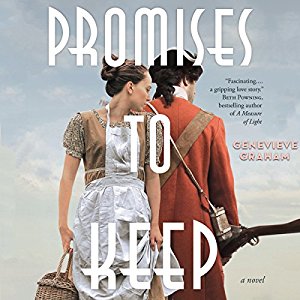 Promises to Keep
by Genevieve Graham
Narrator: Alexis Quednau
Length: 8 hours and 16 minutes
Genres: Historical Fiction
Source: Author
Purchase*: Amazon | Audible *affiliate
Rating:

Narration: 3.5 cups
Summer 1755, Acadia.

Young, feisty, and beautiful Amelie Belliveau lives a contented life with her family on their idyllic farm in Grande Pré, Nova Scotia. The Acadians are a peaceful people, and she and her family enjoy a good relationship with their Mi'kmaq neighbours. But peace can be fragile. Soon, British soldiers invade her life, claim her family's farm, and ship away her brothers and father, all the while demanding that all Acadians pledge allegiance in their Seven Years' War against the French.

Fortunately, Amelie has made a powerful ally. Corporal Connor MacDonnell is a reluctant participant in England's plan to expel the Acadians from their homeland. His sympathy for Amelie gradually grows into love, and he resolves to help her and her family in any way he can—even if it means treason.

As the last warmth of summer fades, more ships arrive to ferry the Acadians away, and Connor is forced to make a choice that will alter theirs future forever.

Heart-wrenching and captivating, Promises to Keep is a gloriously romantic tale of a young couple willing to risk everything amidst the uncertainties of war.
In Promise to Keep, Genevieve Graham transports readers to the shores of Grande Pré, Nova Scotia during the summer of 1755, where the peaceful Acadian farmers, experience life-altering changes as their land becomes British Occupied. Narrated by Alexis Quednau, I quickly became caught up in Belliveau families story through the voice of Amelie Belliveau. Beautiful, captivating and heart-wrenching Promise to Keep is a story that will stay with you.
When the story first begins, Amelie and her family live in a small farming community. Life is good, as in their friendship with the local Mi'kmaq tribe. Britain occupies their land, but her people continue living as they always have. That is until the King gives new orders and life slowly begins to change until nothing is ever the same. One of the young British officers befriends Amelie, who is young, stubborn and often outspoken. What first began as acts of kindness turns into something forbidden. Promise to Keep held me in its grip.
Graham is an eloquent storyteller who weaves history and fictional characters into stories that steal a little piece of your heart.  I sighed, grew anxious and wept like a baby on more than one occasion. Everything felt very surreal, from their departure to seeking shelter in an unknown land. I loved the Belliveau family, their friends, and Corporal Connor MacDonnell. Graham fleshed them out and breathed life into them.
Her writing style is poignant and poetic bringing the characters, surroundings, and circumstance to life. I was with them in the hull of the ship, held my breath when they faced the enemy and wept when they felt loses. I cannot even imagine the research that went into telling this story, but I certainly appreciated how Graham transported me. She made me research events and break out maps as Amelie and her family traveled to the Americas. I wanted to see pictures of their homeland, of the ports and tribes there.
The romance is subtle but powerful. It is one you want to see fulfilled despite the obstacles. While the romance is understated, it impacted the story and the lives of the characters. Graham allowed the reader to hope for a happily ever after.
The story is narrated by Alexis Quednau whose wide range of accents was impressive. She beautifully captured authentic French, Britsh, Native American, and New Englander accents. For the most part, I enjoyed listening and felt she captured the characters. However, some aspects were very monotone and lacked any inflection. This was particularly true when there was lack of conversation. The audio itself could have been edited better as sounds such a the narrator swallowing were heard.
Promise to Keep shared one family's story of survival, hope and new beginnings while Graham wrapped it in rich history and transported me to 1755.
A captivating and heart-wrenching tale that transported me to 1755 and stole a piece of my heart. Promises to Keep by Genevieve Graham #iloveaudiobooks #historical #romance
Click To Tweet
Reading this book contributed to these challenges:
Related Posts