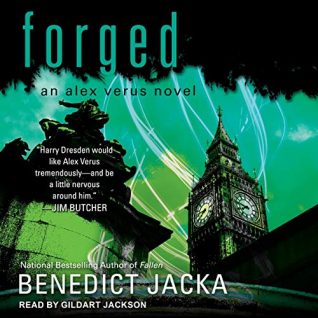 Forged
by Benedict Jacka
Series: Alex Verus #11
Narrator: Gildart Jackson
Length: 11 hours
Genres: Urban Fantasy
Source: Publisher, Purchase
Purchase*: Amazon | Audible *affiliate
Rating:

Narration: 5 cups Speed: 1.3x

Alex Verus faces his dark side in this return to the bestselling urban fantasy series about a London-based mage.

To protect his friends, Mage Alex Verus has had to change--and embrace his dark side. But the life mage Anne has changed too, and made a bond with a dangerous power. She's going after everyone she's got a grudge against--and it's a long list.

In the meantime, Alex has to deal with his arch-enemy, Levistus. The Council's death squads are hunting Alex as well as Anne, and the only way for Alex to stop them is to end his long war with Levistus and the Council, by whatever means necessary. It will take everything Alex has to stay a step ahead of the Council and stop Anne from letting the world burn.
Mage Alex Verus has embraced his dark side as he tries to save his friends and deal with the council and his nemesis, Richard. Forged the eleventh audiobook in Benedict Jacka's Alex Verus series, delivered with twists, intense moments and a few surprises.
Things come to a head between Alex and the council as we prepare for the final audiobook/book and holy gates this was intense!
We face down the council, grow concerned about Alex's fate, and get a surprise from Richard. I devoured this tale as threads came together and the action intensified. Alex is formidable, particularly when protecting his friends. His disgust for the greed of both dark and light mages fuels him.
Alex is running out of time and gets help from unexpected corners. This installment was fast-paced and intense. It was filled with magic, screen worthy battles and outmaneuvers. Jacka gives us quiet moments with Alex and his friends and rather intriguing conversations with enemies and allies alike. If you haven't read the series, I fear you'd be lost even though Jacka provides recaps.
The ending was dramatic and teases of things to come in the last installment. Can Anne be saved? Will Alex survive to see it?
Gildart Jackson has narrated the series and has truly become the voice of these characters. With just a few words, I know exactly who is speaking and I love that. His range of voices and ability to evoke their emotions adds another level of enjoyment to the series. His voice for Alex and the subtle changes as Alex has grown are impressive.
Gads, the wait for the last audiobook will be painful.
Forged by Benedict Jacka holds the listener captive in the newest #audiobook in the #AlexVerus #UrbanFantasy series narrated by #GildartJackson #mustlisten #NewRelease
Click To Tweet
Reading this book contributed to these challenges:
Related Posts