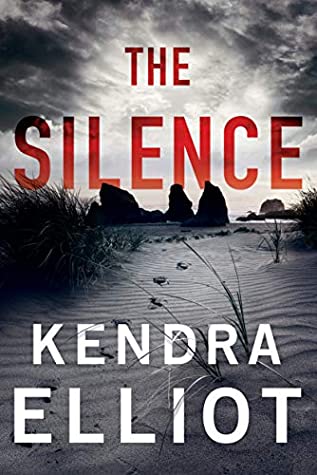 The Silence
by Kendra Elliot
Series: Columbia River #2
Genres: Romantic Suspense
Source: Publisher
Purchase*: Amazon | Audible *affiliate
Rating:
A dead conspiracy theorist. A mass murderer. Two cases collide for Callahan and McLane in a pulse-pounding thriller by Wall Street Journal and Amazon Charts bestselling author Kendra Elliot.

A man is savagely murdered outside Portland, and Detective Mason Callahan finds blood-spatter evidence that tells a troubling story. Files reveal the murder victim, Reuben Braswell, was a radical conspiracist. In his home, investigators find pages of diatribes against law enforcement as well as ties to Mason's fiancée, FBI special agent Ava McLane. The victim was her informant—and had strong reasons to be paranoid.

To Ava, Braswell's rants were those of a wearying and harmless man…until they collide with her investigation into the murders of police officers and finding the connection becomes urgent. Meanwhile, Braswell's brother and Ava's twin sister both disappear, and disturbing acts of sabotage target Ava's personal life.

For Mason and Ava, the brutal crimes and escalating mysteries create a perfect storm for a terrorist conspiracy that becomes dangerously personal—one that has yet to claim its last victim.
We are back with the second novel in the Columbia River series; The Silence by Kendra Elliot. Callahan and McLane's cases collide when a grisly murder leads them to a mass-shooting. You won't want to miss this heart-pounding story.
FBI special agent Ava McLane is having a morning. Her twin is missing and Ava fears she is up to her old tricks. Then one of her informants has been brutally murdered and Detective Callahan, her fiancee' has the case.
A mass shooting shakes things up and leaves Callahan's partner injured and other officers dead. Callahan wants justice. He must be content working the Braswell murder case and looking for links there.
The FBI assign Ava to the mass-shooter task force. She and her partner are clever, and the two are soon chasing down leads.
Elliot is brilliant at weaving both the personal and case aspects of her stories together. This allows the reader to become immersed. Her characters are developed and often flawed. Ava and Callahan are both skilled at their jobs and completely likeable. Their romance felt genuine and strengthened our attachment.
There is a lot going on and Elliot had me flipping the pages. I knew the author would slowly weave all the threads of the cases together into one heart-pounding, action packed tapestry. It was brilliantly done while keeping things grounded and believable.
Ava and Callahan make a great team on and off the clock. Their chemistry, mutual respect, and unwavering support for each made the relationship feel genuine.
Elliot is quickly becoming a must read for me with her compelling cases and realistic characters.
The Silence by Kendra Elliot delivered a suspenseful case(s) with plenty of action and twists. #ColumbiaRiver #Shooting #RomanticSuspense #NewRelease
Click To Tweet
* This title is available in KindleUnlimited and Audio format.
Related Posts