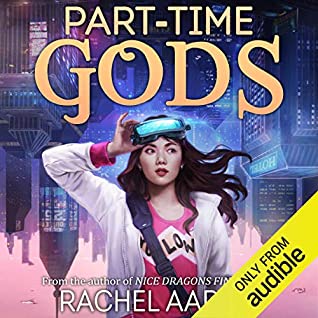 Part-Time Gods
by Rachel Aaron
Series: DFZ #2
Narrator: Emily Woo Zeller
Length: 11 hours and 8 minutes
Genres: Urban Fantasy
Source: Purchase
Purchase*: Amazon | Audible *affiliate
Rating:

Narration: 4.5 Speed: 1.3x

Life in the magical mess of the Detroit Free Zone is never easy. When you're laboring under the curse of a certain prideful, overbearing dragon, it can be down right impossible.

My name is Opal Yong-ae, and I'm a Cleaner. At least, I used to be. Thanks to the supernatural bad luck that turns everything I do against me, these days I'm more of a walking disaster. Getting rid of this curse is the only way to get my life back. Unfortunately, dragon magic is every bit as sneaky and deadly the monsters behind it, and just as hard to beat.

But I've never been one to take her doom at face value. Cornered doesn't mean defeated, and in an awakened city that rules herself, dragons are no longer the biggest powers around
I dove straight into Part-time Gods, the second audiobook in the DFZ, urban fantasy series by Rachel Aaron before the ink dried on my review of the first audiobook. We are back in the Detroit Free Zone and our girl Opal is in serious trouble.
With a deadline that could cost her freedom and a curse wreaking havoc, she needs all the help she can get.
Wow, this second audiobook was stronger than the first and I am loving the world and characters. Opal is determined to meet the outrageous new terms of her loan even if it kills her. Together with Nick, a cybernetically enhanced human with a questionable past, she sets out to meet the deadline but to do so she'll need to find a way around the dragon's bad-luck curse.
Opal is clever and tenacious. When she discovers she can't break the curse, she looks for loopholes. She and Nick are breaking rules, working around the clock and running into danger.
I loved the distinct characters we meet, and a fellow blogger told me that some characters are from the Heartbreaker series. (which I now want to dive into). We learn more about Nick's past as danger finds them. This leads to some moments for the couple. I laughed at Opal's inner dialogue and wanting to shake Nick, who holds back.
We deal with Dragons, politics, and chats with the Spirit of the City. Potatoes and walks in the forest lead to some interesting tidbits about magic and Opal's potential. Opal has a chip on her shoulder from her upbringing and daddy issues, which provides some nail biting moments and relationship woes.
Aaron impressed me with the world from dragons to gods. The DHZ and shaman we meet held me spellbound. If you've ever been to New York City, you can just imagine the thrum of the city being the magic of a god.
Despite some closure, the tale ended on a cliffhanger so I immediately started Night Shift Dragons, the third audiobook.
I recommend listening to the series on audio. Once again, Emily Woo Zeller did a bang-up job with the characters, tone and pacing. The writing lends itself perfectly to this format, and I had a blast.
Fans of suspense, magic and a side dish of ship worthy romance will want to dive into the DFZ series.
Reading this book contributed to these challenges:
Related Posts