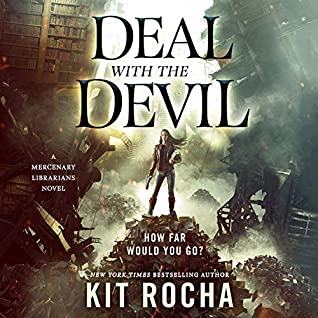 Deal with the Devil
by Kit Rocha
Series: Mercenary Librarians #1
Narrator: Lidia Dornet
Length: 12 hours and 36 minutes
Genres: Fantasy
Source: Publisher
Purchase*: Amazon | Audible *affiliate
Rating:

Heat Level:


Narration: 4.5 cups Speed: 1.3x

The United States went belly up 45 years ago when our power grid was wiped out. Too few live in well-protected isolation while the rest of us scrape by on the margins. The only thing that matters is survival. By any means. At any cost.

Nina is an information broker with a mission: to bring hope to the darkest corners of Atlanta. She and her team of mercenary librarians use their knowledge to help those in need. But altruism doesn't pay the bills—raiding vaults and collecting sensitive data is where the real money is.

Knox is a bitter, battle-weary supersoldier who leads the Silver Devils, an elite strike squad that chose to go AWOL rather than slaughter innocents. Before the Devils leave town for good, they need a biochem hacker to stabilize the experimental implants that grant their superhuman abilities.

The problem? Their hacker's been kidnapped. And the ransom for her return is Nina. Knox has the perfect bait for a perfect trap: a lost Library of Congress server. The data could set Nina and her team up for years...

If they live that long.
I went into Deal with the Devil by Kit Rocha blind.
I knew an author duo wrote it. I have followed one of them on Twitter for years, but hadn't yet read any of her books. (shameful I know)
The cover looked badass and promised some kind of apocalyptic setting.
There were mercenary librarians. MERCENARY LIBRARIANS!!!
I mean, what more do you need to know?!?
Deal with the Devil by Kit Rocha delivered a fast-paced, action-packed, swoon worthy, heart-stopping science fiction post apocalyptic tale and it's all narrated by Lidia Dornet.
Nina and Knox are the principal characters of the story, but we soon learn about their crews.
Knox, the leader of the Silver Devils and his men; Conall, Rafe & Gray were soldiers in the Protectorate. The team is now rogue and in trouble after a mission went south.
Nina and her friends, Maya and Dani, were part of a government program specializing in clones and genetic modification. Each of the girls has special enhancements and abilities. They too escaped and are rogue. The three call themselves the Mercenary Librarians. They steal goods and supplies for the communities that are forgotten.
The Silver Devils are on borrowed time. They removed their trackers, but without their supplements, (thanks to modifications) they are slowly falling apart. They need the help of a specialist to fine tune their biometrics, but someone has kidnapped her. Their story is troubling, and Knox as their leader carries the burden of their loss. A tradeoff ransom is their only hope of survival, but they need Nina and the Mercenary Librarians to pull it off.
The tale that unfolds sees the six as they set out to retrieve the specialist. It was interesting to watch the dynamics between Nina and Knox. They sized each other up and slowly built up a rapport even as they fought the chemistry between them. Romance develops and the budding of others as the teams need to outmaneuver the enemy and save the day. The interaction of both crews offered snark as bonds developed and they earned trust.
The terrain is dangerous and it challenges them as individuals and as a team. They will need to trust each other, but Knox and the Silver Devils are carrying a secret… one that could ruin everything.
Lidia Dornet, a new to me narrator, did a stellar job bringing us the voice of Nina, Knox and their crews. Her tones, inflections and performance added to the overall story and pulled me in. The writing style and genre are perfect for audiobook.
Will either crew survive together? You must listen and discover that for yourself. Fans of Ilona Andrews and Orphan Black will want to begin the series. I adore both and cannot wait for the next audiobook.
The series is currently slated for two books, but I am hoping we see more.
Deal with the Devil by Kit Rocha delivered a fast-paced, action-packed, swoon worthy, heart-stopping science fiction post apocalyptic tale . Narrated by Lidia Dornet. #SciFi #PostApocalyptic #Action #MustListen
Click To Tweet
Reading this book contributed to these challenges:
Related Posts